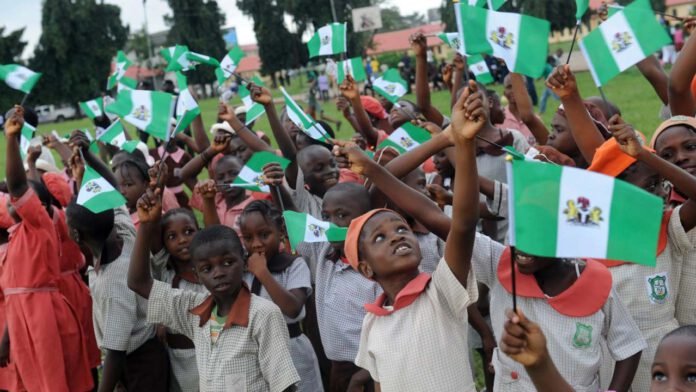 By Stevenie Michaels
The annual children's day celebration is an occasion to celebrate the children and reassure them of love and support.
Mbaitoli local government area was not left alone in celebrating their own in spite of the heavy down pour on Saturday the 27th may 2023,
The occasion was graced with match past and dancing competition from different primary schools and secondary school in Mbaitoli local government area,
Those present during the 27th may,2023 children's day celebration where the Sole Administrator of Mbaitoli local Government, Hon Chief Hamilton Chinasa Opara (JP),Lolo Christine Ekwutosi Opara the First lady of Mbaitoli local government area, Barr. Kingsley Uwakwem  the local government DAGS, Hon. Sylvester Asozerem,  the  local government chief of staff, Hon. Emeka Nwadi the local government Secretary, the Treasurer of the local government Ugoeze Ngozi Durueburuo and the Education secretary .
Speaking to the journalist, the LGA SOLAD Hon. Chief Hamilton Chinasa Opara expressed happiness that they celebrated the 2023 Children's day peaceful irrespective of the rain and fear of the unknown built in the mind of Imolites, he further said that celebrating the children in Mbaitoli local government  start last year October 1st 2022 , thanking the Governor Hope Uzodimma of Imo state for his proactive posture and love for Education,
Hon. Opara said that the task of training up a child should not be left for parents alone because when a child becomes irresponsible, the child will become a problem not just for the parents but for the society at Large, and that this day therefore is a reminder to every citizen, parents and guardian of their inalienable obligation to provide best health, Education opportunities and smart school uniforms for their children,..Let us ,as a society resolve to offer equal opportunity to each and every child to Excel in life,
I will contribute my quota to supporting the efforts of our children friendly Executive Governor Imo State Distinguished Senator Hope Uzodimma whose investment in Education at all levels proves his single minded determination to Recover our state from the rots of the past, Reconstruct our value system and Renew our hope for a better society that has been Rehabilitated through the  sacrifices, Commitment and dedication of a man of vision , Hon. Chinasa Opara said
The 1st Lady of Mbaitoli local government area Lolo Christine Ekwutosi Opara said that Childhood is a phase in the developmental process of any individual. urges every one with various means and capacities the occasion to rededicate themselves to the protection of the children, our children because they are the weakest links in our society yet hold the key to the future.
On my part I will do my utmost to contribute to the welfare and positive development of the children in my local government area and every other child within my sphere of influence and contact..
Meanwhile the pupils where presented with gifts items such as writing materials food by the wife of the SOLAD.