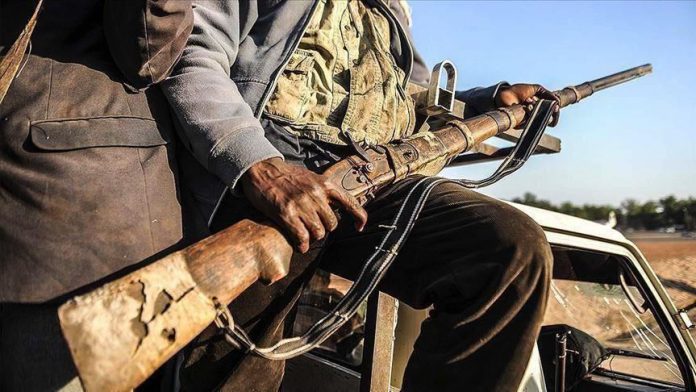 . Kill Chief Priest, Son, Woman
.Abduct Two Persons
.Residents Desert Community
The last seventy-two hours in Izombe Community and its environs in Oguta LGA have been horrendous as the Izombe Community is almost a ghost town now.
The turbulent cloud, literally, started changing since Thursday last week when, at Izombe, unknown gunmen (UGM) killed Eze Victor Ijioma of Orsu Obodo  as he was returning from Owerri after attending a meeting of traditional rulers in the State.
After dealing with the traditional ruler, the UGM unleashed mayhem at Mgbele, a neighboring Community, where they killed the traditional Prime Minister there.
 Last Friday, though now released, Rev Fr Mathias Opara was kidnapped along Izombe/Ejemekwuru/Ogbaku road.
 Same day, at Amakpu Izombe, one Chief Benji Onyema was killed in his house. The deceased was alleged to have approached an oil Company Staff in Ugbele, near Izombe, to release the sum of #500,000 to him, to enable him pacify a faction of a secret cult operating in the area who had planned to kill him(the oil Staff).
 Reports say the cult group saw the action as one meant to smear their image hence they went for him(Onyema) to make a point.
Then came early morning last Saturday when uniformed security men, heavily armed, invaded the home of Chief Nwaneme Chifo, the Chief Priest of "Ala Orsu shrine, Izombe,  at his residence Amakofia near Aborshi Izombe.
Trumpeta was told that the security men on locating the elderly man, shot and killed him. They also killed his son, the elder brother's daughter and later abducted the Chief Priest's two other sons.
 On leaving the area, the already blood thirsty security men zoomed straight to Ndiawa Izombe where they pumped bullets into the head of an electrician.
 A narrator who pleaded anonymity,  said no reasons have been adduced  why  the uniformed security men in Izombe behaved in that order.
 He said meanwhile, the Izombe Community is currently deserted.