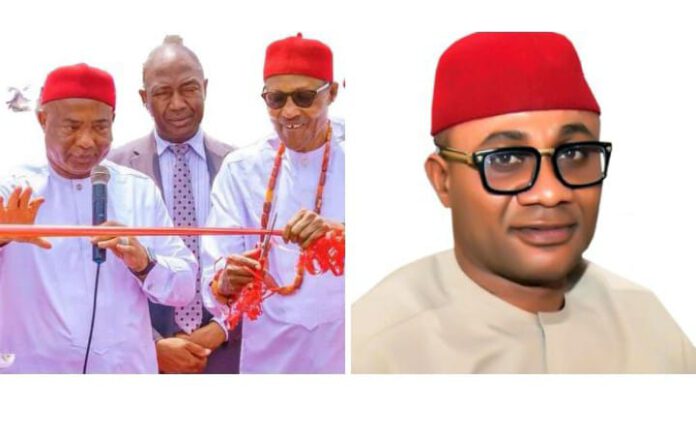 .As He Congratulates Imo Governor
•Maintains That His Re-election Is Sacrosanct
By Onyekachi Eze
Governor Hope Uzodimma's Conferment of the Commander of the Order of the Niger (CON) by the immediate past President of Nigeria, Muhammadu Buhari, and, the Rivers State award on him as the Grand Service Star of Rivers State (GSSRS) by Governor Ezenwo Nyesom Wike's outgone administration has been adjudged to be phenomenal.
Giving the remarks was the former House of Assembly Member who represented Oru East State Constituency in the 8th House of the IMHA, and currently, the Commissioner representing Oru East LGA in the Imo State Oil Producing Areas Development Commission (ISOPADEC), Hon. Nkenna Nzeruo.
The Governor last weekend bagged the two prestigious honours courtesy of his numerous contributions to the national development and for his outstanding performance.
In his goodwill message, Hon. Nzeruo congratulated the governor for his uniqueness in Leadership, governance and in human relations which earned him the two honours.
Adding that not only his thirst for national peace and unity, Uzodimma has distinguished himself as a true patriot.
Hon. Nzeruo maintained that the CON honour was well deserved, and has further recalibrated the opposition's view on Uzodinma's sterling leadership pedigree in Imo.
The erstwhile Lawmaker in his message opined that, over the years even before and throughout his 8 years stay as Senator for Orlu Zone, Governor Hope Uzodinma has never been found wanting or disappointed the electorate in the discharge of any duties assigned to him.
Hence, he confirmed him more as a go-getter, bridge builder, unifier, and apostle of good governance.
Moreso, Nzeruo re-affirmed that all the landmark achievements attained by the Uzodimma's first term in office paved way for the awards, even as he prophesied for more awards coming on the way for the governor.
"Kindness begets more good gestures. This is just the beginning. More global, National and Statewide awards are underway. It has also proven that whatever one does, the world sees. A very big congratulations to the People's Governor".
"In less than four years in office, Governor Hope Uzodinma surpassed his predecessors; infrastructurally and economically. Not forgetting his impacts to human capital development. These speaks volume and would stand a test of time. Truly, the cap fits him, let him wear it. The People are delighted and grateful having him. He is Godsent".
Continuing, the fore-runner of the "No Vacancy In Imo State Douglas House till 2028" reiterated that anyone contesting against Uzodimma in the upcoming November 11, 2023  polls is only wasting his resources and funds as Imolites haven seen and felt the impact of effective governance are going to vote him again for second term.
"Ndi Imo have seen successive governments and by now have seen the difference. When I say over 90% of Imolites will vote for Uzodimma's second tenure, it is not a hyperbole. Facts are sacred, and returning Governor Hope Uzodinma to continue his good works remains sacrosanct", says Nzeruo.