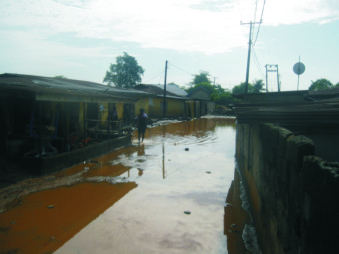 As the raining season is about to set in proper, the residents of Imo State living around Egbu, Uratta Road, MCC, Central Bank Quarters, Works Layout, Amakohia and Akwakuma etc  are now living in suspense following what they go through during the wet seasons.
One Wednesday, the shop owners around Chukwuma Nwoha/MCC Road suffered devastating blow as flood submerged goods and buildings.
The menace visited Residents of Egbu and Central Bank Quarters, as their homes were also flooded to the brim with water.
The people living in Works Layout also suffered the same disaster as water sacked them.
Trumpeta investigation unveiled that despite efforts by Imo State Government led by Governor Hope Uzodinma to curb the flood menace, the issue of flooding persists in the mentioned Areas in Owerri Capital City.
Investigation showed that the Balloon Technology adopted by the Government had failed to check the heavy floodings in Owerri, leaving inhabitants in tears and sorrow.
Our Reporters who visited some of the Trouble Areas discovered that even though fresh new roads could be sighted around Chukwuma Nwoha road, but the construction could not take care of the perennial problem of flood in the Area, because the drainages are not deep enough to contain and direct the heavy flood water into the appropriate channels.
"We thought the construction will take care of the matter. But all they did was to build the road, without taking care of the major problem: the Gutters, which are not deep enough to contain heavy floods" Dr Nelson Opara lamented.
The victims of the floods said that had Government first of all found out what is the case of the floodings, before tarring the roads, the matter would not have been contained.
"If you go to Uyo, Akwa Ibom State for instance, there are some streets you see Gutters as Deep and as large as a Bunker. While in other streets you see just shallow gutters. These depend on the amount of water found in each area.
 But in Imo State, the gutters in say Uratta road that is erosion prone, is the same as that you see in Royce road.
What the contractors do is just to collect their money, leaving the major aspects" Engr Lambert Osuji said.