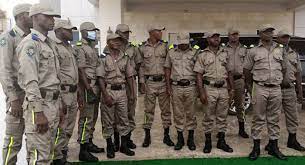 Ebubeagu Invades Oguta Communities
.Three Shot Dead, Teenager Hit By Stray Bullet
The people of Ejemekwuru, Agwa and Izombe Autonomous Communities in Oguta LGA Imo State have been sleeping with their two eyes wide open since Thursday last week following incessant raids by Armed Vigilante, alleged to be Ebubeagu Security outfit.
Personnel of the dreaded security Group, operating with a Sienna Bus and an armoured vehicle, recently raided Agwa, Izombe and  Ejemekwuru Communities.
An eyewitness, who pleaded anonymity, told Trumpeta that last week, on that fateful Thursday around 6.30pm, the outfit after wreaking havoc at Agwa where they later took about three youths along with them, drove from there to Ejemekwuru. The three youths were picked because they did not run on sighting the security personnel.
On entering Ejemekwuru, some people started scampering for safety. A trader, Chukwuma Nnaji, who sat tight in his store was approached and asked why he didn't run.
He told them he had no need to run because he had no skeleton in his cupboard. The answer infuriated the heavily armed security men. Out of annoyance they bundled him into their car but some elders rallied round the young man and pleaded to his integrity before he was let off the hook.
The security personnel then moved to Umuolowu kindred, Ejemekwuru, where they asked of one Loco. Loco's wife told them the husband had gone to grind cassava in a nearby kindred with some of his kids.
 Pointing a riffle at the woman, they forced her to take them to where the man went to grind the cassava.
  On arrival there, Loco was not there. The grinding machine operator told them that he (Loco) had just gone to buy red oil for use during the grinding.
 Out of disappointment, the grinding machine operator received some doses of slapping and kicking.
 They later turned to the woman (Loco's wife) and shot her dead for purportedly misleading them. As the machine operator made to run, they also shot him dead.
As if that was not enough, the security personnel moved to the house of one Emmanuel Adaka where they sought after his son, Omemgbeoji( an Okada Rider) but the son's wife said the husband had not returned. They threatened the woman by pointing an AK47 at her. The children raised alarm.
The alarm attracted the old man of the family, who from his room, shouted "who are those people"? The response the old man got through his window was rains of bullets on his head.
They left there with the Sienna, while the armoured vehicle was still waiting, drove straight to Umuoduwa kindred to the house of one Kenneth Anuforo Ukadiaru, a Transporter.
 Our narrator said before their arrival, Kenneth and his family had escaped. Out of annoyance, they would have been victims. However, their operational Sienna vehicle that was parked in the compound was set ablaze.
Last Sunday, the Ebubeagu security outfit personnel stormed Afor Izombe Market Park around midday.
Every living being within the market environment was forced to part with some amount of money. All the stores that were opened that fateful Sunday were looted. They left around 1pm.
 By the time of filing this report, the people of Agwa, Ejemekwuru and Izombe are licking their wounds and still panic stricken.
Young men and women are hardly seen around as many of them have relocated to neighbouring Nkwesi, Mgbele, Kalabari Beach and Ogbaku.