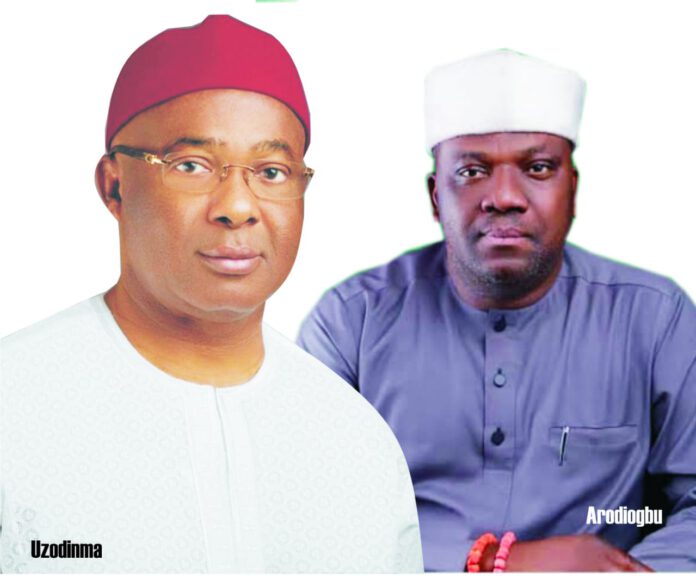 Undoubtedly, Governor Hope Uzodinma of Imo State has earned the Masses' heart and trust following his laudable human and infrastructural development in the State since assumption of office in January 2020.
While Imolites are yet to come out from the jubilation of the many rural and urban roads constructed by the governor, he has made more life transforming pronouncement.
At the meeting of critical stakeholders held over the weekend in Owerri, the State capital, Governor Uzodinma announced of a forty thousand naira (#40,000) salary of civil servants in the State.
He didn't stop there, he also assured the Civil Servants of free Medicare, free daily meal, and more coaster buses to convey them on daily basis so as to save transportation cost.
Uzodinma also announced that verifiable farmers in Imo State will be blessed with five billion naira (#5,000,000,000) soft loan/grant to accelerate food production.
Amazed with these Executive pronouncements, the South East National Vice Chairman of the All Progressives Congress, APC, Dr. Ijeomah Arodiogbu has commended the Governor.
In a media parley with Correspondents in Owerri, Dr. Arodiogbu disclosed that what the Civil Servants couldn't get in previous Administrations they are receiving now under the APC led government.
He described Uzodinma as a selfless Leader who knows and hears the plights of the People he governs.
Adding that the salary increment of Civil Servants came at the right time when it would cushion the effect of the removal of fuel subsidy.
The Imo State born intellectual also enthused that Uzodinma is leaving no stone unturned in delivering dividends of democracy to Imolites.
Recalling how Imo State was before Uzodinma's enthronement as Executive Governor and now, he said Imo People have every cause to thank God for bringing a courageous and visionary Governor .
Dr. Arodiogbu maintained that while Civil Servants from other States are still receiving less than thirty thousand naira, Uzodinma's magic wands have made it possible for them to earn forty thousand naira with other record breaking welfare packages.
On soft loan/grant to farmers, the governor was also extolled for thinking beyond 'white collar jobs' to a more diversified agricultural expansion.
Arodiogbu tasked the would-be beneficiaries to take the available opportunity seriously and as avenue fashioned out to better their lives.
He expressed optimism that come November 11, 2023, Imolites will reciprocate the kind gestures by returning Uzodimma back to Imo State Douglas House.
Arodiogbu also opined that Uzodinma has written his name in the annals of Imo State with his people oriented policies, projects and programmes.
"Imo people have not had it this commendable before. Governor Hope Uzodinma has restored people's confidence in government. Posterity will be fair enough to him. For his wonderful legacies, I have no iota of doubt his second term is sacrosanct", said Arodiogbu.