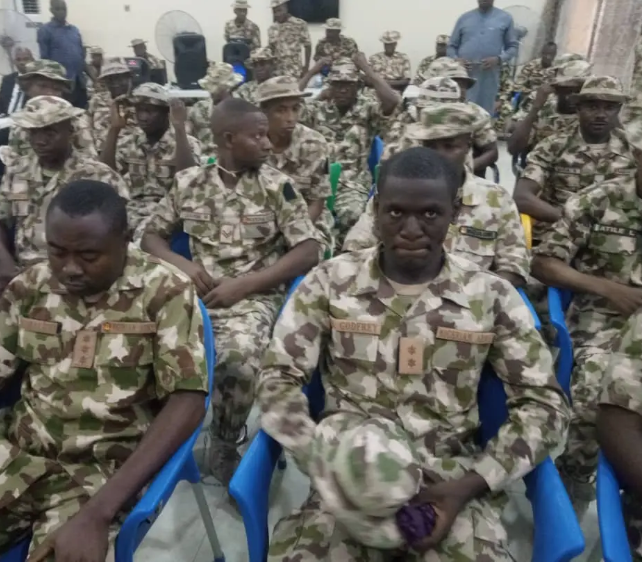 The Imo state Resident Electoral Commissioner, Prof. Silvia Agu, has disclosed that about 2300 (two thousand, three hundred) soldiers are to be deployed for the November 11th Imo governorship election.
Prof. Agu, while delivering a speech at a two-day roundtable/workshop for Imo state based journalists organized by International Press Centre (IPC), in Owerri, the Imo state capital, on Thursday, said that the commission is prepared for the exercise.
She said that the Commander of the 34 Artillery Brigade, Obinze in the state, Brigadier General Sani Suleiman, in a meeting with the commission, had promised to deploy enough security personnel to ensure a hitch-free election exercise.
Admitting that the last Presidential, National Assembly and House of Assembly elections in the state were marred with irregularities of insecurity, she assured Imo electorates to avail themselves the opportunity to exercise their franchise come November 11, without any fear of molestation by the non-state actors.
"In the midst of insecurity in the state, we did our best to ensure a seamless and hitch-free election. I came to Imo state one month before the general election and i was getting myself acquainted with the political environment. The burden was too much on me.
"My staff were apprehensive of the security situation in the state and I tell you right now, about 65 percent of my adhoc staff have withdrawn their services because of insecurity. We are starting all over again to recruit new officials for the forthcoming election.
60 by 468 ads size
"I will tell you without mincing words that the last election in the state was not influenced by any individual or group. The only challenge INEC had was the issue of insecurity, I said it earlier.
"You need to understand this, I have no powers of my own, as the state Resident Electoral Commissioner, to declare result of an election. It is the duty of the Collation Officers to collate results at the Collation Centres and the Returning Officers to announce results. Ours is to ascertain and entertain issues emanating from the exercise. We are also obligated to take orders from the National Headquarters where the final results are announced as in the case of Presidential election.
"So for those of you who think that the commission could be influenced to announce a result just to favour a particular candidate, that's a wrong impression of about INEC. We do not have powers to do that."
She further urged the journalists to assist in sensitising the Imo electorates to come out as usual to exercise their franchise, disclosing that the army, police and other security agencies will collaborate to ensure a hitch-free exercise.