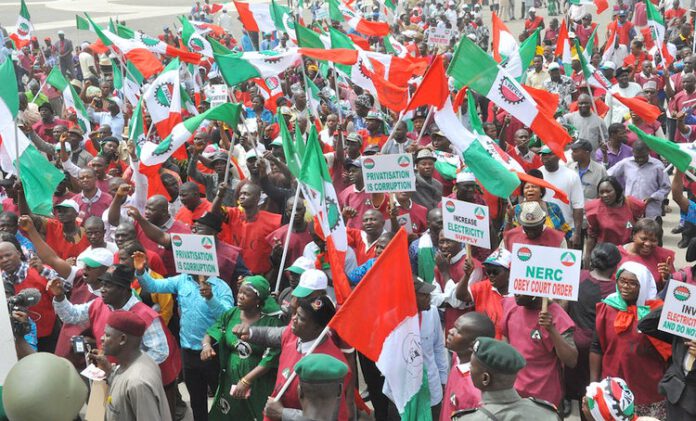 .As Labour Leaders Arrested For Enforcing Strike
By Okey Alozie
The warning strike embarked upon by the Nigerian Labour Congress NLC is said to have hit the rock in Imo State.
Eye witness account revealed that the officers of the NLC who stormed the State Secretariat complex at early hours of Wednesday 6th of August 2023 to enforce compliance were arrested.
The Head of Service, Barrister Raymond Ucheoma raised eyesbrow on the action of the Labour officers who according to him came into State Secretariat Owerri without informing him.
The security agents arrested the Labour Leaders and later released them.
Our roving reporter gathered that Imo workers refused to comply to the warning strike on the ground that they were not properly informed about it and as a result of this, they refused to obey the Labour Leaders and this almost led to fracas, consequently the security agents stormed the State Secretariat to arrest the situation and maintain law and order.
Comr Greg Oforegbu, the Leader of the officials of NLC that stormed the State Secretariat complex located along Owerri Porthacourt road on Wednesday disclosed that the Labour Union Nationwide is on strike, therefore every worker must comply to it, adding that it is just a warning strike which no worker should sabotage.
But the Head of Service is of the view that the Labour Leaders should have informed him before going straight to drive workers out of offices.
The Head of Service as we gathered directed that the Secretariat entrance gate should be locked, insisting that every civil servant should go back to his or her office to continue their job. While some staff obeyed the Head of Service, others decided to hang around the premises without going inside office.
Comr James Chukwueke who was one of officers arrested by security agents said he did not commit any crime, adding that Imo workers should not sabotage NLC at all.
The warning strike as we gathered succeeded in many States but failed woefully in Imo.
Our roving reporter further gathered that attendance of workers was taken in the morning of Wednesday 6th of August 2023 to ascertain the daily staff position.
Information also revealed that list of Civil Servants who did not come to work on Wednesday is now being compiled. Those who were absent from duty on Wednesday are going to face serious sanction as we were told. The Labour is said to be protesting because of the ill treatments meted on Nigerian workers by the Tinubu Government.
A reliable source told our roving reporter that a  good number of Imo Civil Servants came to work Wednesday 6th of August because of sharing of the  bags of rice brought by Government as palliative  measure to cushion the effect of fuel subsidy removal.