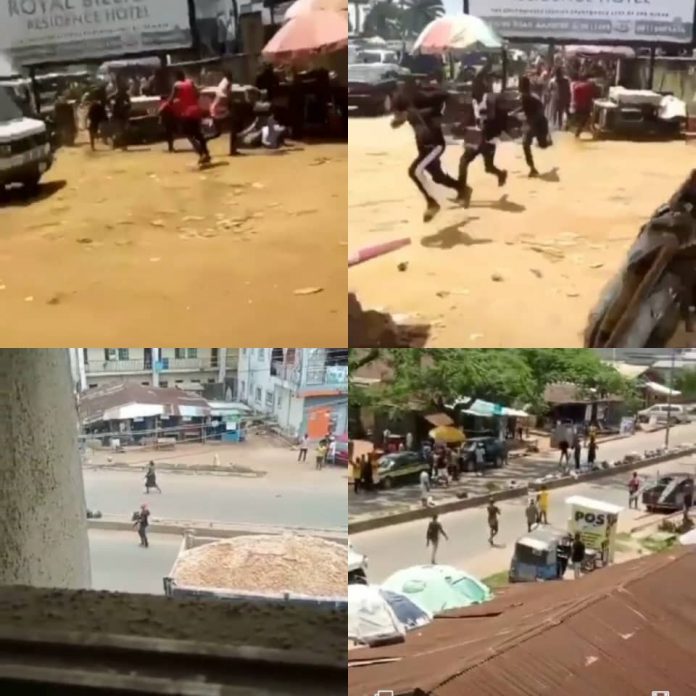 Operatives of the Imo state Joint Security Task Force (JTF), were said to have launched a reprisal attack on Umualumaku community in Ehime-Mbano council area of the state where five of its personnel were reportedly killed on Tuesday.
The JTF, it was gathered stormed the said community on the early hours of Wednesday, burning and looting several shops and arresting those on sight.
A community source who spoke to our correspondent said army and police stormed the community on Wednesday morning and started destroying shops and arresting people.
He said, "since morning, the army and police have taken over our community, destroying our shops and looting our property. Several shops and houses have been burnt down, as I speak. They stormed our community on the early hours of today when people had yet to open their shops. Many were injured and several houses burnt down.
"They burnt down Ehime Guest House in Orie Ndu and destroyed a popular beer palour known as Ibari-ogwa mbano. Several other buildings were set ablaze by the security Joint Task Force.
"If JTF is destroying and burning shops in my community because the killing of the personnel yesterday happened not too far from Umualumaku, they should know our people are innocent of the crime hence, do not deserve such attack from the security agents.
"The incident that happened yesterday took place at Orie-Agu and Aba branch areas of the community but the JTF took over our land, burning and destroying peoples means of livelihood.
"How do they want the poor to survive. This poor man whose shop is burnt may not have any other means of livelihood. How will they survive it?," he submitted.
It would be recalled that five operatives of the Joint Security Task Force, were on Thursday shot dead and set on fire by unidentified gunmen.
It was reported that the slain JTF officials were on patrol along Orieagu market when they were ambushed and killed by their attackers, setting ablaze the two Hilux vehicles as well as the slain officers.
Meanwhile, the Imo state police command, has described the incident as both painful and barbaric.
The command, through its Spokesman, Henry Okoye, disclosed that the five slain JTF officers comprised of two NDLEA officers, one civil defense officer, one police officer and an Air force officer.
He said the Police Commissioner alongside the Governor of Imo state had visited the scene of the incident, and promised to step up action in apprehending those behind the dastardly act.