.Fire Destroys Property Worth Millions In Owerri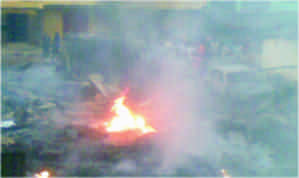 By Innocent Onyeukwu
It was wailing and crying for shop owners and residents of a property situated at No.3 Odor Street, Owerri when a wild fire razed down goods worth millions of naira.
The fire which began about 11 Friday night and lasted up to Saturday morning was so ferocious that men of the fire Service, Owerri battled all night to quench it but to no avail.
The Imo Trumpeta observed that but for the intervention of youths of Umuodu community and good Samaritans, the inferno would have affected other buildings close to it including the residential home of former Chairman of Owerri Municipal Council, Chief (Hon) Emma Odor.
There were discordant tunes on how the fire started, but a resident in the area said an electric spark from one of the shops may have ignited the inferno. According to him, because of the peculiar structure of the building, the fire spread rapidly destroying goods worth millions of naira, including a Mercedes Benz 190 vehicle parked close to it.
Other items reduced to rubbles by the fire include a Cord Printing Machine and its accessories, Jerry Cans said to have been stacked to the brim in one of the shops, sewing machines, refrigerators, fairly used television sets, and a restaurant.
Efforts by Imo Trumpeta to speak to the landlord of the property, Mr.Samuel Odor was futile as he was so devastated and dumbfounded.
Narrating the incident to Imo Trumpeta, a resident in the area, Mr. Chibueze Odor, a.ka Pason, said the fire incident was the worst he has seen in his lifetime.
'I have never seen anything like this in my life. This is a movie to me' he said.
He explained that the intensity of the fire was such that those who were bold enough to come out in the dead of the night to quench the fire ran out of ideas on how to stop it.
Hear Him 'The fire was so ferocious. We mixed water with Omo detergent and sprinkled it on the fire, yet it kept on burning. It was like adding fuel to it'.
He continued 'Even when the Fire Fighters came, they could do little or nothing. After an hour, their tank ran out of water. We had to resort to a nearby borehole where we collected water for the fire, yet it kept on burning.  The whole place was filled with smoke and when we observed that the fire was about spreading to other buildings, we had to take precautionary measures. It was hell on earth'
Some of the shop owners were in sober mood to speak to Imo Trumpeta. A middle Aged woman who was simply called Mma Ada only responded with wailing and crying when our reporter asked her what was her reaction to the fire incident.