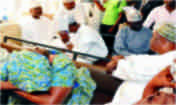 The long arm of the law is beginning to take its course in the much celebrated case of fraudulent management of Police pension funds, as a permanent secretary in the Federal Civil Service, Alhaji Atiku Abubakar Kigo and a director, Chief Esai Dangabar were on Thursday sent to prison on remand by an Abuja High Court over alleged diversion of a whopping sum of N32.8billion into their private bank accounts.
The Permanent Secretary and the Director, alongside four other top government officials, were put on trial by the federal government in connection with the fraud. The other suspects are Alhaji Ahmed Inuwa Wada, John Yakuku Yusufu, Mrs. Veronica Ulonma Onyegbula and Alhaji Habila Zira.
They were arraigned before Justice Abubakar Talba of the Federal Capital Territory (FCT) High Court on a 16-count  charge of conspiracy, criminal breach of trust and diversion of public fund amounting to N32.8billion — offences that are contrary to sections 97, 315 Penal Code Act Laws of the Federal Capital Territory, Abuja Nigeria, 2007.
The breakdown of the charges showed that the accused persons, being public officers in the service of the government of the federation in Abuja between January 2009 and June 2011, diverted the sum of N14,518,567,724, being part of Police pension from an account domiciled at First Bank Plc.
Between January and December 2009 in Abuja, the accused persons were also alleged to have breached the public trust with N8, 920,371,822 Police pension fund deposited at First Bank Plc.
The charge sheet also indicated that the accused persons diverted a sum of N4, 739,894,896 between January 2010 and February 2011 also in Abuja, and another N858, 301,006 from the same source between February and June 2011. They were also accused of stealing N656, 559,289 in January 2011, and a further N462, 963,012 was allegedly diverted from the same sum in March 2009.
All accused persons pleaded not guilty to the charges filed on behalf of the Economic and Financial Crimes Commission (EFCC) by Mr. Rotimi Jacobs.
An oral application by Chief Adegboyega Awomolo (SAN), counsel to the first accused person for release of the suspects on bail was turned down by Justice Talba, who directed that the bail application must be in writing and must be attended with cogent reasons on why it should be considered.
Awomolo then applied that the accused persons be remanded in the EFCC custody pending the grant of their request for bail. This was again rejected by the court on the ground that EFCC's custody is not a holding place for an accused person already brought to court.
Justice Talba then ordered their remandment in prison custody until April 3 when motion for their bail would be moved. The substantive case was adjourned till April 25 for hearing.