The ambition of Finance Minister and Coordinating Minister of the Economy, Dr. (Mrs.) Ngozi Okonjo-Iweala, to ascend the leadership of the World Bank received a boost on Thursday when the Federal House of Representatives publicly declared its support, describing her as "the best candidate" for the plum job.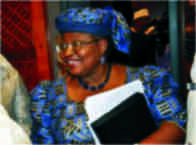 The resolution to support the minister followed a Point of Order of Urgent National Importance moved by Honourable Austin Ugbabuhron (PDP, Delta).
"Our Minister of Finance, Dr Ngozi Okonjo-Iweala, as we are all aware, is vying for the position of president of World Bank," Ugbabuhron said. "This is the first time that a Nigerian will be vying for that position and it is pertinent for us as a Legislature to endorse her candidature so that the whole world will know that she has our support because she is eminently qualified to hold that position."
The Representatives also thanked the federal government, South Africa, the African Union and other countries that have thrown their weight behind the actualisation of the minister's audacious bid.
Other lawmakers who supported the motion include House leader, Mulikat Akande-Adeola, Farouk Lawan, Suleiman Abdulrahman Kawu and Ogbuefi Ozomgbachi.
"Dr. (Mrs.) Ngozi Okonjo-Iweala is the best candidate for the World Bank top position," Ogbuefi Ozomgbachi (PDP, Enugu) said, noting that it is the first time that Africa will be supporting the candidature of a fellow African for a top world position as this.
"We should toe the same line," he added. "I urge the House to commission the Committees on Inter-Parliamentary and Foreign Affairs to rally support for her," Ozomgbachi added.
Also on Thursday, Jim Yong Kim, the United States candidate and favoured aspirant to clinch the job, launched his global campaign in Ethiopia. Okonjo-Iweala, Colombian Jose Antonio Ocampo — the third candidate — and Kim will be screened by a panel on April 9, 10 and 11, in that order.