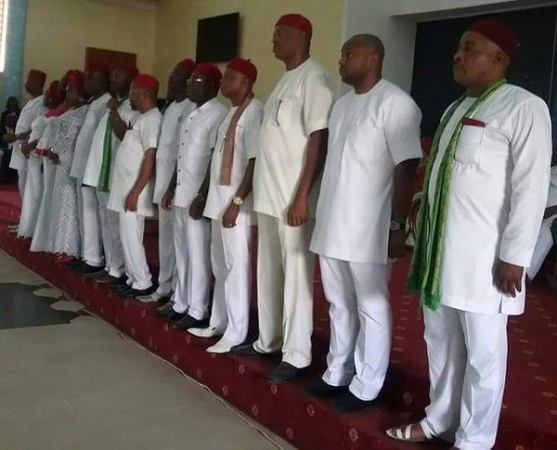 By Onyekachi Eze
For the newly sworn in 28 Commissioners of Imo State under the Rescue Mission Government led by Governor Rochas Okorocha, it's not going to be pleasurable.
The governor made this known to them during their swearing in ceremony yesterday at IICC Owerri, the State capital.
Although he congratulated them for being privileged group to serve at the last lap of his administration, Rochas Okorocha categorically warned them to be careful to avoid regrets.
"This appointment is no more business as usual".
Governor Okorocha earlier before their swearing in mandated that the acceptance and inauguration of each of them depends on how vicious they are, especially by presenting an apt road budget of their respective Local Governments which should be completed under their watch before end of his tenure.
Notwithstanding that the newly sworn in TC chairmen and members are saddled with the responsibilities of completing the ongoing chapel projects in their council headquarters, the Commissioners are charged to ensure speedy completion of the projects by unceasing supervision.
"According to him, "I neither see today nor tomorrow, but I see one hundred years to come and that's the difference between me and you people. So all of you should be focused".
He further threatened that any lapse from any of the ministries would be handled without mercy, hence urged his Commissioners to be partners in progress by developing their allocated ministries.
They are also admonished to work ahead of time, and not Commissioners by name calling and pride.
On a serious note, the governor made it known that as his last group of commissioners both roads and other government infrastructure in their councils should not be seen lying fallow but should receive adequate attention needed, so as to give his would be successor the opportunity to continue from his legacies.