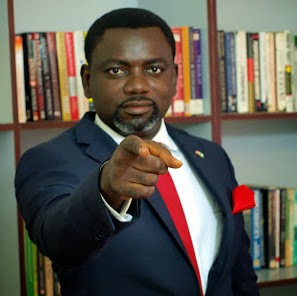 Dr Linus Okorie, who recently joined the race for Imo Governorship position has made it known that his ambition to occupy Imo Government House in 2018 is a mass movement.
Speaking to a crowd of followers, and Journalists at Rockview Hotel Owerri, he maintained that what he was doing was a notification of his interest to seek for the governorship seat of Imo State, but not a declaration, as that one will shake the foundation of Imo State when it takes place in no distant time.
The Oguta LGA born Technocrat cum politician said that after extensive consultations he decided to throw his Hat into the ring and rescue Imo State from mediocrity in governance.
The forty two year old said "I want to lead a movement to change Imo State. I have been challenged by the celebration of mediocrity in Imo State, by producing Leaders who are not ready to lead".
Okorie said that by the time he unleashes his plans, championed by the youths, Imo populace would realize that the State lacks nothing but only how to harness the abundant natural and human resources abound in the State.
The Guber Aspirant who could not disclose the political party platform to execute his ambition, disclosed that his first major assignment would be to banish poverty in the State, pointing out that the political model he had propounded would set Imo State on the pinnacle of one of the best States in Nigeria.
The orator and motivational speaker said that competence drives progress, adding that he is not bothered by the quantum of problems facing Imo State after Rochas Okorocha's administrations, but is only concerned on how to tackle them, which is the reason whoever dreams to mount the Imo leadership ladder must be perpared.
The Guber Aspirant who said he is in touch with the grass roots across the State said that his vision for Imo State is clear.
"Imo State is filled with endless possibilities to model a world class State, grooming huge human capital, youth empowerment and Excellence in Governance" he said.
Okorie waved aside the insinuation that he was being propelled by a Group to join the race, describing that as an insult on a personality like him with Global pedigree.
He said that zoning is an abnormality, which breeds mediocre, urging that all those interested in the race should join the fray, devoid of clannish leaning, and allow the Imo electorate to make the final decision at the polls.