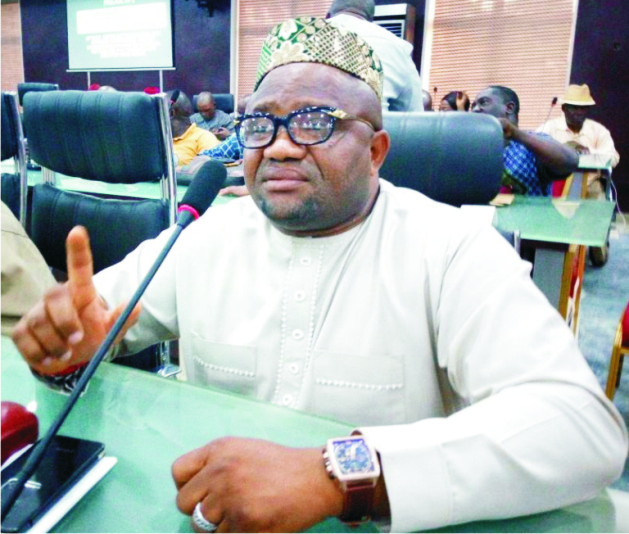 By Onyekachi Eze
The leadership sagacity of Imo State Governor, Owelle Rochas Okorocha which is said to be the best in the history of the State is envisaged to be greatly missed after 2019.
This assertion was made by an APC bigwig of Ideato North LGA, Nze CJK Chinedu during an interface with Trumpeta Newspaper in his Owerri office yesterday.
He asserted that Governor Okorocha has surpassed his Predecessors in virtually all the segments of governance since the creation of Imo State.
CJK Chinedu further eulogized the governor by pointing out his undaunted love  he has for humanity, stressing that as a  leader with  soft spot for his people, Okorocha sacrificed his time, resources, energy and Will, which he said has placed the State on the World map beyond what it used to be.
The maverick politician also informed Trumpeta that the present criticisms heaped on the governor can only emanate from unfocused and greedy persons/opposition parties who do not see the wind of change the presence of Owelle Okorocha brought to the State since 2011 till date.
In addition, he said that no sane or true Imolite will speak against the Rescue Mission Government knowing full well of the better life the incumbent administration has brought on them. However, he made a comparison between Sam Mbakwe's era and Okorocha's era, saying that when Mbakwe was the governor, people criticized and labeled him as the worst Governor, but later glorified the same Mbakwe's administration after his exit. He therefore likened what happened during that time to what will become after Okorocha's regime by 2019.
Continuing, he enjoined Owelle Okorocha's critics to get hold of their political sentiments and see the massive infrastructural developments scattered in all the nook and crannies of the State, ranging from the 27 General Hospitals, 27 Chapels and ICT centers, school twin story buildings in the 305 INEC wards, urban and rural roads project which is still ongoing; establishment of security outfits, urban renewal policy, improved employment /empowerment rate, to mention but a few.
According to Nze CJK, "I see no reason why somebody will wake up one morning all to castigate a Governor who has sacrificed a lot for the overall interest of the masses. The Governor has done well and deserves commendation. It is true that people don't know the value of what they have until they lose it. Imo people will live to remember this same man after he must have handed over power to his successor by May 2019." Nze CJK said.