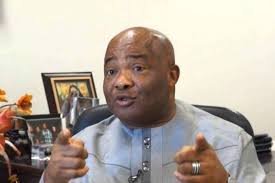 Rather than jubilation and celebration taking over the All Progressive Congress APC in Imo State, over the defection of Senator Hope Uzodinma into the party, from the Peoples Democratic Party, PDP, instead peace of the grave yard has gripped the APC Imo Chapter.
According to impeccable sources, Hope Uzodinma's recent move into APC is greeted with mix feelings, as members watch what would unfold later.
Trumpeta was told that the mixed feelings which trailed Uzodinma's move into APC is caused by the fact that soon the Senator would identify which "faction" he is joining in the party, because as a very strong politician, which ever "Group" he joins in Imo APC will jubilate, while the other mourns.
Trumpeta was told that Imo APC has two major camps now; with one headed by Governor Rochas Okorocha, while other splinter Groups are under one umbrella fighting one common enemy, and is headed by Senator Ifeanyi Araraume.
This Newspaper was told that another factor dogging Uzodinma's entrance is the fear that Uzodinma himself does not operate under the shadow of others without calling the shots himself.
Therefore, indications are rife that Uzodinma may pretend to join a camp now, just to gain a foot hold before forming his own Group.
This situation is giving a lot of APC followers sleepless nights as they believe that another "Elephant" has joined the party, and therefore may not be easily controlled.
Already, there are speculations that Uzodinma may dump his Senatorial ambition since Governor Okorocha is interested in the seat. Others said that Okorocha may sacrifice his Senatorial ambition as a way of appeasing Uzodinma to support his plot to foist his son inlaw, Chief Uche Nwosu as his successor in 2019.
Meanwhile, as Uzodinma negotiates for a fair landing, there is also the issue of those who are joining APC with him, as most of them too are "Big Politicians" in their respective Areas, who would not like to queue from behind in their various wards and may like to change the existing status quos which may degenerate to internal squabbles in Imo APC soon.
Therefore many take Uzodinma's entrance into APC as a matter which may bring good tidings for Imo APC if managed well with care, or cause implosion within the party that may skyrocket to big issues later, even as the 2019 elections approach.
Meanwhile, the Peoples Democratic Party, PDP, Imo State chapter has waved Uzodinma a "beautiful Goodbye".
Speaking to Trumpeta on phone, the Secretary of the party in Imo State, Hon (Nze) Ray Emeana said that PDP is like a Catholic Church, where the absence of one member is hardly felt, nor would it stop Church Service from proceeding.
He said that it was better for those who wish to leave the party to do so now, than remain in the party to sabotage its efforts internally.
"We wish Distinguished Senator Hope Uzodinma a goodbye. Since he feels it is in APC that he will achieve his political ambition, we wish him Goodbye. But he must ever remember that PDP made him what he is today politically" Emeana said.