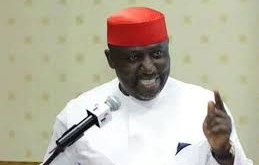 Part of the outcome of last weekend's Congress of the APC in Imo State is the doubt surrounding the continued support of Governor Rochas Okorocha to Chief Uche Nwosu.
Before now, Okorocha has not hidden desire to inform the public that Nwosu who is married to his first daughter and the Chief of Staff is the best qualified to be his successor in 2019.
Trumpeta gathered on good authority that Okorocha is making a volte face about his continued support to Nwosu following the stiff opposition he has been receiving against the ambition of the in-law.
Majority of opposing forces while claiming that Nwosu's ambition amounts to a "Third Term" for the Governor, insist that it contravenes the Charter or Equity in the State where Orlu zone will be favoured to be in Government House after Okorocha's eight years.
Further details even have it that those fighting the governor are doing so because of Nwosu, even as unconfirmed sources said that the signal in Abuja headquarters of the party are also opposed to the Nwosu project.
The outcome of the Congress which saw Okorocha panting for help from Buhari has opened a new frontier in the race for who occupies Government House, Owerri in 2019.
An inside source close to Okorocha disclosed that the governor is considering swapping the son in-law's governorship ambition with one of his loyalists. The arrangement, Trumpeta further gathered is that one of the remaining allies from other zones, than Orlu senatorial district, preferably Okigwe zone, will now be backed to carry the Rescue Mission flag in the coming Guber election.
Though no name has been mentioned, but feelers are that three Okigwe zone top politicians; Reps Member, Chike Okafor, Speaker Acho Ihim and Prof Nnamdi Obiareri are tipped to get a fresh nod from Okorocha for the race while Nwosu will fall in as the Running Mate.
The new twist, according to the source is not only to regain balance in the political calculation of the state, but also destabilize the opposition especially that of Senator Ifeanyi Araraume who appears to be a potential threat to the governor.