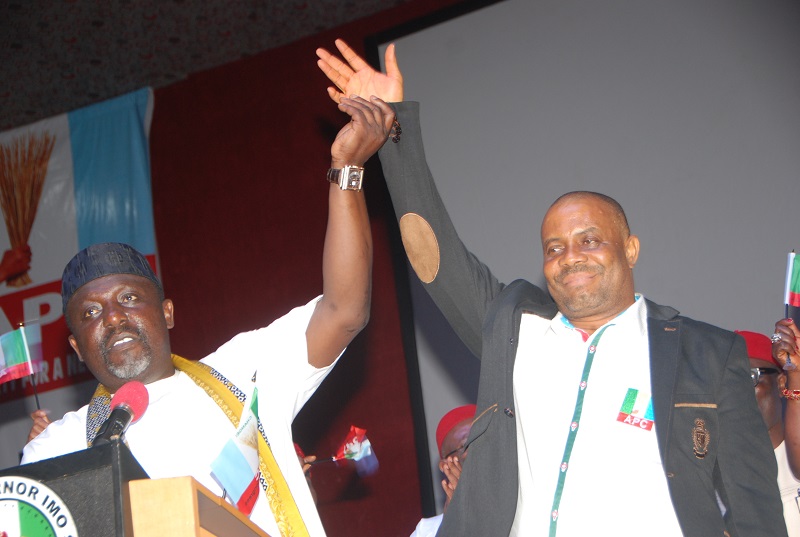 By Thompson Agu, Abuja and Onyekachi Eze
Intrigues of different sort heralded the just concluded inauguration of the newly elected chairmen of All Progressive Congress, APC in Abuja, with the Imo State chairman, Dr Hilary Ekeh, missing being carted away by whiskers.
It would be recalled that Eke, with others, were inaugurated in Abuja by the NWC of the party to end the differences rocking the battle for the soul of APC in Imo.
Trumpeta learnt that suspected persons whose grievances against Eke cannot be divorced from the controversy arising from the conduct of the congresses in the State had laid ambush for the State party chairman at his hotel and Abuja environs with the purpose of stopping him from being inaugurated alongside others.
A source revealed that Eke had been a target of some groups who wanted to frustrate and keep him away from the inauguration hall.
Trumpeta can also recall that some persons had gone to court to challenge the conduct of the ward congress and made attempts to stop the State congress where Eke was re-elected. After which, the attempt to cage him was said to be related to the court case.
It was learnt that the suspected abductors had planned to pick him from the hotel he lodged in Abuja or on the way to the venue of the inauguration. Both plain cloth security agencies and faceless persons were also alleged to be mobilized for the task before mother luck ensured he escaped.
But for a close ally of the state party chairmen and member of the APC stakeholders who got wind of the abduction plot intervened. The APC state chairman would have been either arrested or kidnapped to foil his inauguration for another term but for the timely response of the efforts of the coalition.
Further information has it that plain cloth security men and other uniformed ones invaded the hotel Eke with the mission to bar him from not attending the inauguration.
Under decoy, Eke was said to have left the hotel unnoticed while the detailed abductors kept vigil until he finally appeared at the inauguration hall and joined others.