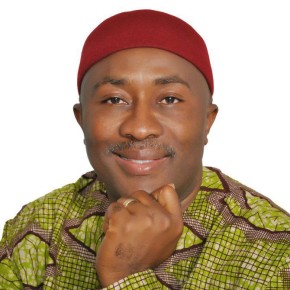 A frontline Governorship Aspirant under the platform of All Progressive Grand Alliance, APGA, Imo State, Hon Uche Onyeagocha has redirected his political energy towards an Owerri Governorship project come 2018, even as his ambition to run as a Governorship candidate was thwarted by APGA.
Welcoming the Peoples Democratic Party, PDP Governorship candidate in Imo State, Rt Hon Emeka Ihedioha to his home at Obinze in Owerri West LGA on Tuesday, the former Federal Lawmaker promised to work with Emeka Ihedioha for him to actualize his dreams in 2019 election.
Onyeagocha who once represented Owerri Federal Constituency in the National Assembly maintained that now is the time to retrieve Imo State from the hands of political jobbers, pointing out that Owerri zone has been so marginalized in the scheme of things in Imo polity, and therefore promised to work with Ihedioha to realize Owerri project.
Onyeagocha who was tipped to pick the APGA Governorship ticket could not believe that Imo APGA could so derail in the process of its Governorship primary, which he said is a sham and shame which would trail APGA in Imo State for a long time. "I am a member of New APGA. Since the candidates in APGA and APC have question marks, I have decided to support the only candidate who emerged through transparent primaries" Onyeagocha told Ihedioha.
In reciprocating Onyeagocha's gesture, Ihedioha assured his Guest of working with him for the good of all Imo people.
Ihedioha who made it clear that he is not in politics for selfish reasons disclosed that the socio-economic quagmire as faced by Imo State today needs the concerted effort of all the reem Imo State.
Ihedioha promised to work with all good people in turning Imo State of every bodies Dream into a reality adding that the likes of Onyeagocha are important in making Imo State bounce back from its present squalor, occasioned by a rudderless administration that lacks masses confidence.
"I am here to solicit for your support as my brother and friend. My desire to lead Imo is not self motivated, I am aware I can't do this alone. I am reaching out to you and soliciting for your support to enable us liberate Imo State" Ihedioha told his Guest.