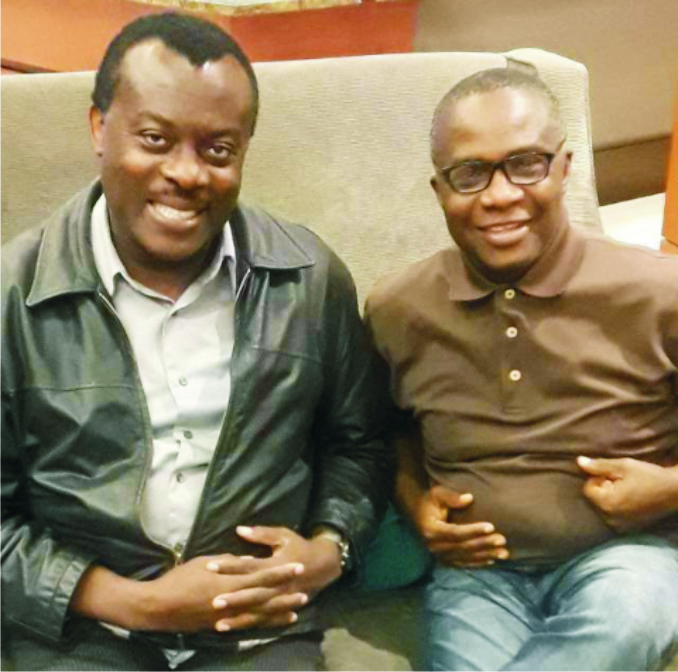 By Amaechi Kingsley
The Abundant Nigeria Renewal Party (ANRP), governorship candidate of Imo State, Professor Alphonsus Njoku Ekwerike after a wide consultation with relevant stakeholders across Imo has named Dr Matthew Uzukwu as his running mate for the 2019 gubernatorial election in the State.
Finding reveals that the Okigwe zone background of Dr Uzukwu and his strong foundation for a technology driven economy in Imo state informed the world's recognized researcher, Prof Ekwerike, his decision to settle for the health and administrative expert.
More findings reveal that to balance the tripod arrangement in the politics of Imo, Prof Ekwerike who hails from Owerri zone has to go for an Okigwe zone Deputy which Dr Uzukwu, from Okwelle-Onuimo hails.
Trumpeta gathered that another factor that warranted the choice of Dr Uzukwu was his ability to join forces with Prof Ekwerike in rebuilding the collapsed institutions in Imo, revive and revamp the weak system and structures.
Profile of Dr. Matthew Uzukwu, MBA, Ph.D.
Dr. Matthew Uzukwu is a native of Okwelle, Onuimo LGA of Imo State. He was born on March 23, 1957.
He attended secondary school at Lagos City College, Lagos where he received a Grade One in His WASCE in 1976.
He thereafter studied at Saint Gregory's College, Obalende Lagos from 1976 to 1978 for his Higher School Certificate.
Dr. Uzukwu received Bachelors and MBA degrees from Howard University Washington DC in May 1985 and December 1986 respectively.
In 2005, he received a Ph.D from Walden University. His doctoral dissertation on HIV/AIDS in Owerri was published as a book by Lambert Academic Publishing in 2012.
Dr. Uzukwu worked as an Administrative Hearings Commissioner (Magistrate) with the city government of Washington DC, USA for several years and received an award for meritorious service from then city mayor Anthony Williams.
Upon receiving his Ph.D., Dr. Uzukwu started a second career in academia and taught for 10 years as a Professor of Operations management at Bowie State University in the state of Maryland.
He currently teaches at Saint Leo University, a private Catholic university in the State of Florida. He is a Six Sigma Black Belt Professional and has led organizational process improvements to reduce costs and increase business profits as a consultant.
Dr. Uzukwu has authored several books, 2 book chapters, and articles in scholarly journals. Some of the book titles are: Across Cultures, Out of The Slave Coast, Women of Steel, Moving Forward: A Biography of Goodluck Ebele Jonathan, The Nigerian Civil War: The Memoirs of a Biafran Commando, and Factors Influencing The Spread of HIV/AIDS From High Risk Sexual Behavior In Owerri, Nigeria.
Dr. Uzukwu is a community activist who is the current President of Okwelle Association In North America (OANA) and President of Okwelle Parliament.
Dr. Uzukwu is happily married with kids.