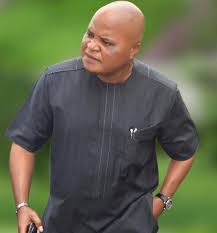 By Onyinyechi Amakaulo 
It was a Sunday of joy to Senator Godwill Ifeanyi Araraume, his teeming supporters who followed him to Holy Cross Catholic Church Aladinma Owerri for his Thanksgiving Mass on his victory during the primaries held in Owerri that saw him through as the flag bearer of the All Progressive Grand Alliance (APGA) in the State.
The Isiala Mbano Senator used the Occasion to present himself for the 2019 campaign train that will be coming up soon as he pray for God's protection throughout the campaign and victory to the Government House come 2019.
Feeding questions to  journalists after the Mass at Holy Cross Aladinma ,Senator Araraume thanked God for his victory that saw him through as the APGA Governorship candidate for 2019 general election, as he also thanked his supporters who left all that they were doing to follow him to thank God for his victory " I am so pleased today with what is happening as people of good well followed me to thank God for my  victory, am also asking God for his protections throughout the campaigns and victory at last to Government House come 2019".
He also urged Imo people to go and get their PVC to enable them get ready in other to use their voters card to remove bad leadership that has destroyed Imo economy and relative peace that once exist in Imo State.
Senator further advised that so many PVC's are in different Local Government Area of the State waiting for collection ,as he wonders  how victory will be achieved if PVC's are not collected by the electorates ,who are going to elect their leads come 2019.
He added that days are gone when PVC's did not count, as he stressed that people should be committed in the upcoming elections in other to get a better candidates for different positions.