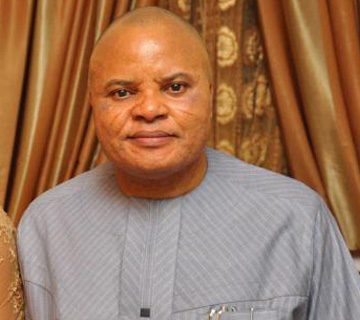 In apparent reaction to a report concerning the APGA candidate, Senator Ifeanyi Araraume about affairs of Exclusive stores, Abuja, his media unit has opened up in what transpired.
According to a statement from his camp Anyanwu Chidiebere, the man in the eye of the storm is a staff of Exclusive Stores Abuja. Exclusive stores is one of the business of conglomerate of Distinguished senator Ifeanyi Araraume but currently has Hon(Barr) Ifeanyi Araraume jnr as the MD while Mr Leo Ogueri is the manager.
Anyanwu Chidiebere as a staff of Exclusive Stores was merely redeployed to another section of the company where his services will be  utilized better . Rather than accept the company's decision in good fate, he rejected the posting and opted out of the company. It is a well known fact that company's, government parastals and agencies are known to carry out routine redeployment exercises. If Anyanwu Chidiebere was not  up for mischief, why did he resign rather than report to his new posting and subsequently reached out to his partner Gele Agbai who reached out to his sponsors to have the story published in a bid to possibly attract undue sympathy and pitch Araraume against Ndi lmo. Nothing can be further from the
truth, it is purely an orchestrated and treacherous attempt to cast aspersion on our principal Distinguished senator Araraume who was not even aware or part of the decision to effectively utilize his services in his new posting.
 The statement says, "Mr Leo Ogueri as the manager of the company signed the redeployment letter, why drag the name of the All progressives Grand Alliance (APGA) governorship candidate senator Ifeanyi Araraume who is currently making preparations to file appeal against the judgment of the lower court into a matter which he is not in any way at the epicenter of the melodrama.? Could it be a case of trying to give a dog a bad to hang it?
"Ecclesiastical speaking no right thinking manager of a reputable company in the present happenstance will stomach or tolerate the schizophrenic disposition of Chidiebere Anyanwu who as a supervisor  with  exclusive stores abandoned his job, eloped, went to Federal High Court Jabi Abuja on the 21st of September the day  Imo state governorship election petition tribunal delivered judgment on the election petition  between Araraume and two others  and Ihedioha, went with    PDP members to celebrate Ihedioha's victory while his paid job suffered a setback considering the fact that the man he is celebrating his victory is a political opponent of his boss. It is ridiculous, irrationally unacceptable, politically unimaginable, yet the management of Exclusive Stores swept all those semantics under the carpet and did not sack him against insinuations making round".