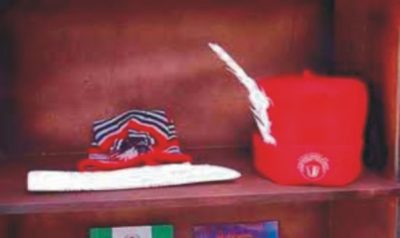 The Chairman Of Ikeduru Council Of Traditional Rulers His Royal Highness Eze Amb (Dr) Marcel Okwadikesinachi Egemonu ( Ebi of Ebikoro) has called on Eze Engr Benedict Ikechukwu Nwaneri ( Eze Ubi 1 of  Owubinubi) who paid a courtesy visit to Hon Uche Ogbuagu member representing Ikeduru state Constituency to focus on his appointment as the Committee Chairman Of Community Policing in Ikeduru LGA than to be parading himself as Chairman Of the council.
Eze Egemonu made this statement in his Palace when Journalists visited him to inquire about the new development happing in his council.
Speaking, the traditional Ruler said that it is unfortunate that such a contradiction is still happening in this 21 century when most people don't know the difference between a committee and heading a council of Traditional Rulers.
He noted that the Governor , Senator Hope Uzodinma have not appointed anybody for the  position of Eze Imo and disturbed  why Eze Nwaneri will be visiting people to inform them that he is the new chairman of Ikeduru Council of traditional rulers without the knowledge of the Council .
Eze Amb Egemonu further said that he has been in the office as the elected Chairman Of Ikeduru Council of Traditional Rulers for just two years of a 5 year tenure  questioning that if his office or position has been cancelled  it will come directly from the office of the Governor for him and his officers to hand over officially.
Ebi of Ebikoro stressed that, Traditional Rulers should see their office as a point of duty and of importance of the society, to avoid anything that would ridicule the Traditional institution. "Because what is happening now appears that politics is played everywhere including in the Traditional Institution".
"It is unacceptable to me, the monarch added.
"For us as Traditional Rulers not to do the right thing, for the sake that it is the right thing to do".
He mentioned some of his recent achievement to include getting a befitting office for Ikeduru Council of Traditional Rulers. According to him, the office needs to be furnished which he noted that the IMC chairman, have promised to do justice to the place to enable them make use of the office, as he called on Eze Engr Benedict Ikechukwu Nwaneri to stop the public show and save his face from being ridiculed and focus on the assignment given to him rather than moving about apportioning position to himself.
Eze Egemonu further noted that there is need for traditional rulers to understand their basic duties and obligations as custodian of culture and tradition, maintain Peace, order and security.
"The drive for cultural reform and developmental strive in our communities should be our goal while allowing general interest to over ride personal interest.
The government at the moment is working hard to harmonize various issues for smooth administration of the state and should not be distracted by unnecessary trivial issues of individual laxity and insatiability for crave for power and authority
"Any traditional ruler who is not contented with his position on the throne of his community, I advise, should resign and engage in business of conventional politics.
"I urge the governor of Imo state His Excellency Sen Hope Uzodimma to continue the good work he is doing particularly in road work and battle on Covid19 pandemic in Imo state, while congratulating him for appointment of Ikeduru sons in office and working in harmony with his team in government".