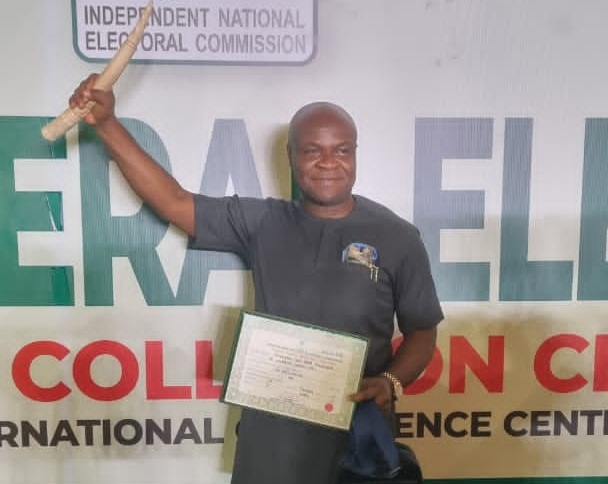 There was a galore of jubilation in Orlu, Orsu and Oru East Federal Constituency as Hon. High Chief Canice Moore Chukwugozie Nwachukwu Omeogo, Ogbaturuenyi Na Orlu received Certificate of Return from the Independent National Electoral Commission (INEC), on Wednesday.
Omeogo among other candidates across the 360 Federal House of Representatives Members- Elect, on 8th of March, received their Certificates of Return from INEC amidst jubilation.
The House of Reps Member Elect who expressed  gratitude to God, appreciated the people of Orlu, Orsu and Oru East Federal Constituency for their overwhelming votes on  February 25th election which gave him victory.
Interestingly, the Federal House of Representatives is one of the two Chambers that make up the Bicameral Legislature of the Federal Republic of Nigeria. It is made up of 360 Members representing each of the Federal Constituencies of the country. Members of the Green Chamber, as it is popularly referred to, are duly elected by their people for a term of four years.
The Federal House of Representatives is presided over by the Speaker who is assisted by the Deputy Speaker and eight Principal Officers. They include Majority Leader, Deputy Majority Leader, Minority Leader, Deputy Minority Leader, Chief Whip, Deputy Chief Whip, Minority Whip and Deputy Minority Whip.
Since the Green Chamber equally operates the Committee System of Legislature, the 360 Members of the house are divided into several Special and Standing Committees based on their professional, educational and other experiences. The Committees are chaired by Chairmen who are assisted by Vice Chairmen and other Committee Members. The Committees conduct Legislative assignments on behalf of the Chamber and report their findings along with recommendations to the entire house for final decision.
Many are of the opinion that Omeogo is going to represent his people at the Green Chamber after May 29, will not only be a blessing to his Constituency alone but will open many doors of opportunities for many.
Notably, Omeogo's endorsement before his victory, was an indication that his victory is divinely ordained to be and the people are happy with it.