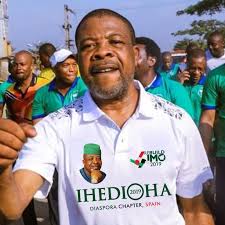 An Imo State born Professor of Political Economy, based in Texas United States of America, USA, Professor Asiegbu Ogbonna Asiegbu has told Journalists reasons why there is plan to put immediate past Governor of Imo State, Rt Hon Emeka Ihedioha out of circulation.
Asiegbu said that the police invitation on allegations of Murder, Kidnapping Arson leveled on Ihedioha is a ploy to either detain the former Governor, or use the Court to put him in prison like his Deputy, Hon Gerald Irona, already languishing in jail.
Prof Asiegbu however, pointed accusing fingers in the direction of Imo State Government, and Governor Hope Uzodinma, saying that there is no how a State Police Commissioner can send invitation to such high Profile Politicians in Imo State without the knowledge of the Chief Security Officer, who is the Governor.
"I bet you, the Governor must have known about the invitation of his Predecessor. He is the Chief Security Officer of the State" he said.
However he advised that arresting or inviting opposition party members in the mould a former Governor and his Deputy will heighten the tension in the State, than douse it.
He said that Gov Hope Uzodinma has too much challenges already as a Governor, than the distraction of locking up Opponents, adding that what Imo State needs now is how to make peace among the various political camps for the State to move forward.
The Political Economist said that he has known Ihedioha for over fourty years, and can swear that Ihedioha cannot engage in acts of murder, kidnapping and Arson.
"Emeka Ihedioha I know is not a violent person. He is a politician quite all right, and politicians are known to engage in many acts to win elections, but I don't know him to do Thuggery or Murder" he maintained.
The Professor made it clear that Ihedioha is one of the brightest politicians in Imo State, as can be gleaned through his short stay in office, adding that his opponents would be happy if he is put away from the scene from participating in the next Imo Governorship election, starting from stopping him being available for the PDP Governorship primaries which comes up in a few weeks time.
"They would want him stopped from participating in the PDP Governorship Primary by putting him in prison custody" he said.
He said that Ihedioha's opponents are afraid of him, because despite time bind all he has passed through, Imo electorate still love him.
Prof Asiegbu Ogbonna Asiegbu warned that if they succeed in silencing Ihedioha, they might go after other Vocal Opposition Elements in the State including Shutting up the Press through harassments and intimidations.
"Let me tell all you Pressmen, it may be your turn soon. If they see you also as saying much Mark my words they will come after you" he hinted.
The Diplomat charged Imo people to remain calm, but follow due process and lawful means in fighting back tyranny, as peace is paramount to development.