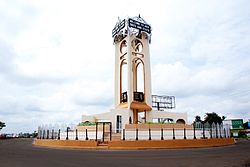 Offices of the Secretary to Abia State Government and Head of Service in Umuahia were on Thursday, taken over by two vanloads of Police officers.
Though it was not known why the officers were in the area, it was believed they were sent to maintain law and order.
Gates to the SSG and HoS offices which are adjacent to Abia State Government House along Library Avenue, were earlier on Thursday morning, sealed by men of Nigeria Labour Congress, Abia State in protest of alleged selective payment of workers' salaries by the state government.
The State Chairman of NLC, Paschal Nweke had on Wednesday, advised all civil servants to remain at home to press home NLC's demands, saying that the strike the union embarked upon had not been called off.
He added that the state government reneged on agreements it had with labour leaders which according to Nweke, necessitated the continuation of the strike.
Though the NLC boss confirmed that some workers had received salaries, he lamented that the state government allegedly hand-picked some offices and persons for payment while leaving others without pay.
But the State government last weekend, said it had fulfilled its promises to pay the workers.
DAILY POST reports that gates to the SSG and HoS offices were still locked with big padlocks as of the time of this report.