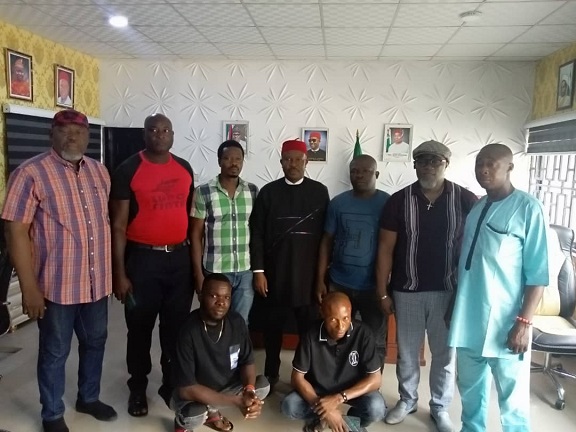 By Nkama Chioma
In a bid to enhance the  safety  and security of lives and property of Imolites, the pragmatic governor of the state,  Dist. Sen Hope Uzodinma, is in top gear with necessary arrangements for the delivery of customized helmets and aprons to Okada riders in the state.
This was disclosed in a meeting the Commissioner for Homeland Security and Vigilante Affairs, Dr. Ugorji Okechukwu Ugorji, held in his office with leaders of the Imo Motorcyclists Association of Imo State.
The Commissioner stated that his ministry is working to ensure that they design a helmet and apron specifically for Okada riders in the state. He said that the essence of this project is to safeguard the Okada Operators and their passengers against illegal operators in disguise who aren't registered with the union of motorcyclists.
Further, Dr. Ugorji made mention that the issuance of the safety and security kits would follow a well drafted policy and procedure from the Ministry. Once the Indefatigable governor of Imo State gives his final approval, the helmets would be made available statewide, perhaps after a formal launch by the government.
The commissioner reiterated that safety of lives and property is one of the top priorities of Governor Uzodinma. "The governor prioritizes safety and security of Imo citizens above all else," he added.
The Homeland Security chief stated that this move is a step in the right direction, which will go a long way in promoting security and safety in Imo state.
Commissioner Ugorji also revealed that the clash which Okada Operators had with security officials in Owerri much earlier this month, that led to several of their motorcycles being seized by the police, is being resolved. Government has facilitated the return of many of the motorcycles to their owners based on his intervention. He observed that the released bikes are the means of livelihood for the Okada riders.
Dr. Ugorji advised the Okada riders to ensure they abide by all stipulated rules, maintain peace and most importantly, make sure that they cooperate with the government of the day. He expressed optimism that more good gestures would be meted out to  them because of the ongoing collaboration.