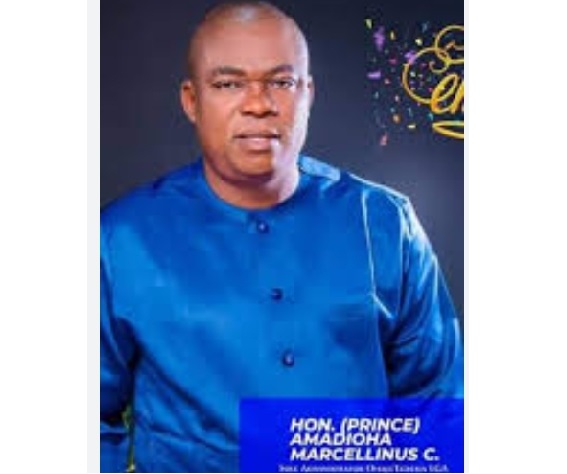 As Imo State governorship election gathers momentum, the Sole Administrator of Ohaji/Egbema LGA, Hon Prince Marcel Amadioha, has disclosed that the people of Ohaji/Egbema are solidly behind the reelection process of Governor Hope Uzodimma.
Amadioha made the disclosure in an interview with media professionals after attending the critical stakeholders meeting comprising of Politicians, Ezes (Monarchs), President Generals of Town Unions, Women and Youth Leaders, held in Umuokanne, Ohaji, at the residence of ISOPADEC MD, Chief Charles Orie, last week.
He said the people took the decision to fully give their mandate to the Governor because of the love he exhibited by appointing sons and daughters of the oil rich region into political positions both in the state and beyond.
Amadoha who also attended the Orlu Zone Critical Meeting of Stakeholders Forum held on Saturday at Nkwerre Country Club, Nkwerre LGA, commended the leaders of the zone for adopting the 2nd term bid of Governor Hope Uzodimma as well as canvassing for votes in the 256 autonomous communities of the zone.
The SOLAD enumerated that Uzodimma deserves reelection as he has done tremendous things which he said are solidly enhancing development, encouraging commercial activities and social comfort in Imo State.
"His Excellency, Governor Hope Uzodimma, is truly exemplifying democracy in Imo State. He has built quality roads in Owerri, Orlu and Okigwe Zones. Built Standard Hospitals and Health Centres, giving hope to civil servants and teachers by raising their wages, regular payment, promotion and employment. The Governor has also attracted the upgrading of Federal Medical Centre (FMC) Owerri to Federal University Hospital Owerri (FUTHO), Alvan Ikoku Federal College of Education Owerri to Federal University of Education Owerri among many achievements. These feats are encouraging development, economic prosperity and social comfort, peace and security in Imo State", he reflected.
He added that the Governor had "Upgraded the Egbema Skill Acquisition Centre, Abazi to Campus 2 of Federal Polytechnic Nekede, Imo State. Through His  Excellency's collaboration with the immediate past Minister for Education (State), Rt. Hon. Goodluck Opiah".
Amadioha did not mince his words as he pleaded with the good people of Ohaji/Egbema to discard every sentiment be it political or religious and support every good move targeted at reelecting Governor Hope Uzodimma.