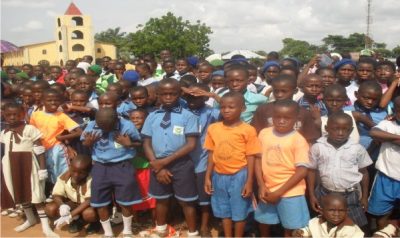 .As Parents Raise Alarm, Call For Investigation
By Okey Alozie
Primary and Secondary schools in Imo State resumed on Monday 11th of September 2023.
Our roving reporter who visited schools in Imo observed that they school children actually came to school but Teachers and Principal were not physically present.
Report has it that a good number of students at Secondary schools later disappeared when they discovered that their teachers and principals were not going to come to school.
Our roving reporter discovered that it was only in some school within the Owerri Metropolis that some teachers and principals were physically seen
The secondary schools where teachers and principals truly came to school on Monday 11th of September include, Owerri City Secondary School, Ikenegbu Girls Secondary School, Imo Girls Secondary School, Akwakuma School and few others.
Some of the teachers and principals who could not come to school complained of ill-treatment meted on them by the present administration in Imo State
Many said they could not get their own palliative (bags of rice) uptill now.
The aggrieved teachers and principals further said that they have yet to received their salaries and promotion packages which other government workers are getting.
"We cannot take care of our children, pay for transport and enjoy our lives again" the aggrieved Imo teachers submitted.
More than 1000 primary and secondary school teachers are highly aggrieved as we gathered because they have not been receiving salary for more than 2 years now, they alleged.
Parents are now calling on the Governor of Imo State do act fast and make sure that Imo Teachers and Principals get what other Imo Government workers are getting for them to have the zeal  to teach and supervise well.
The parents are now not happy on the ground that effective teaching and learning are no longer in Imo schools.
The parents further raized alarm on the insecurity in some schools and encroachment of people into school lands without official approval from Government or school authorities.