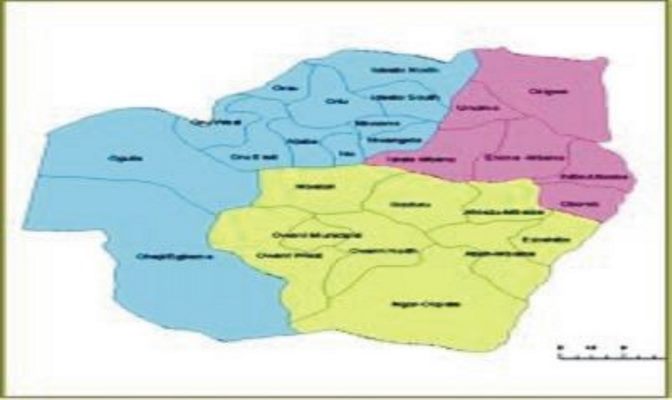 *Go, Leave Exco Alone–Leadership. 
By Peter Uzoma.
A neck breaking crisis is currently raging in the rank and file of the Imo State Chapter of the Nigerian Union of Pensioners ( Imo NUP).
 The crux of the matter is that, while  the Imo pensioners are desirous of carrying out a solidarity rally in the State capital to thank Governor Hope Uzodinma  for his consistency in paying them their monthly pensions, the leadership appear not to give a nod to the move.
 A source who spoke to this Reporter, on condition of anonymity, said  the Imo  pensioners are all in agreement that Governor Uzodinma has paid pensions more regularly than any previous Governor in recent times and therefore deserve commendations even with a plaque as a token.
 An elderly pensioner who introduced himself as Mr Mike Okere recalled that not long ago Governor Uzodinma granted Imo NUP's request for deduction of dues from Imo pensioners stipend to help the Union operate and wondered why the leadership of the Imo NUP cannot deep hands into her purse with the millions that are wrecked in monthly and appreciate the Governor.
 Mr Okere insisted that, Governor Uzodinma, as a human being must have been expecting such "thank you solidarity march" from Imo pensioners at this period in the spirit of "ekele onye akidi , ya agwota ozo".
 Another interviewee, on condition of anonymity recalled how, not too long ago, Imo Civil servants through their leaders fraternised with the Governor and are now smiling.
 He then wondered why the leadership of the Imo NUP cannot follow suit since people can use what they have to get what they want.
 On what pensioners stand to gain by the solidarity rally, another pensioner who said he just left service, opined that such rally would send messages of confidence to the Governor.
According to him, "before the rally, we would have articulated our problems on paper and presented to him".
He continued, "such problems would touch on the need to pay pensioners their gratuities and other worrisome problems including the issue of pensioners not yet captured in the payment schedule.
Although, all attempts to reach the Imo NUP Chairman for comments  proved abortive but another Exco member who pleaded anonymity intoned in a chat with this Paper,  "people are free to show solidarity to any person or party but please allow the NUP executive to be and do her things  according to her detects".
 He continued, "the Union cannot stop any pensioner from identifying  with anyone or party but the Imo NUP Exco must be allowed to be".
However, Trumpeta investigations reveal that some pensioners are spoiling for a solidarity rally, howbeit, to endorse the Governor's second term bid whether the leadership likes it or not.
A source from the organisers say they are currently putting pen and paper together to secure permission for solidarity rally to appreciate Governor Hope Uzodinma for being  Pensioners friendly.