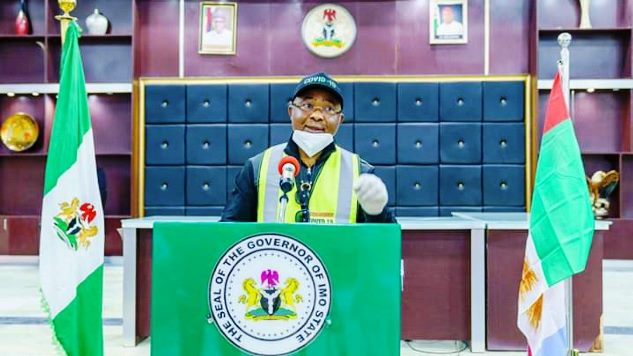 Although the Governor of Imo State presently is Senator Hope Uzodinma, but there are personalities who are the movers and shakers of his Government, as they operate behind the mask.
It has no exception, as such people existed during Govs Evan Enwerem, Achike Udenwa, Ikedi Ohakim, Owelle Rochas Okorocha and Emeka Ihedioha administrations.
Trumpeta has discovered that despite the story that Godfatherism will soon end in Imo politics, it looks like a  mirage as most, if not all those that got one appointment or the other from the Governor Hope Uzodinma administration, were products of political Godfatherism or Groups.
However, in the Hope Uzodinma Government, there are those suspected to call the shots, even though some of them are visible, while others operate inside the masquerade.
Some of the major Power Brokers in the Uzodinma administration include Evangelist Mike Ikoku, Rt Hon Goodluck Opiah, Rt Hon Kelechi Nwagwu, Rt Hon Godfrey Dikeocha, Chief Charles Orie, Chief Nnamdi Anyaehie, Prof Maurice Iwu, Chief Martin Agbaso, Alhaji Modu Sherrif, Chief Marcon Nlemigbo, Chief Tony Chukwu, Comrade Adams Oshiomhole and Chief Patrick Ekeji.
Trumpeta learnt that Uzodinma gives a listening ear to the men mentioned as they stood behind him throughout his struggle to grab power through the election, which failed and then finally from the Court.
Evangelist Mike Ikoku (Ajasin) is said to be very close to the incumbent Imo State Governor, Senator Hope Uzodinma.
Ikoku who owns the popular All Seasons Hotel Owerri hails from Nkwerre LGA, and remains one of the financiers of the Hope Uzodinma Governorship project.
Trumpeta was told that the unassuming and "simple man" is a close confidant of Uzodinma, and remains one of his "Advisers" and listens to his words.
Rt Hon Goodluck Opiah was a former Speaker of Imo House of Assembly who later moved to the National Assembly. He hails from Ohaji/Egbema LGA.
He remains close to Uzodinma and never missed any of the Court procedures from the Tribunal till the Supreme Court judgement of Jan 14, 2020.
Opiah remains Uzodinma's eye in Ohaj/Egbema LGA. And Trumpeta learnt that his choices made Commissioners, Special Advisers SA, Senior Special Assistant SSAs and even IMC lists.
He is one of the reliables that Uzodinma counts on from the Oil Producing Areas of Imo State.
Charles Orie is the major silent operator in the Uzodinma era. He hails from Ohaji/Egbema LGA too and has been a friend of Uzodinma for over thirty years now.
Orie's residence in Owerri is the second Imo Government House, as it is usually busy from morning to night, Monday to Sunday, twenty hours, for the favour seeking legion.
The man called Akuatuegwu, has suddenly risen to a Godfather figure since his business partner and friend became the number one citizen of Imo State.
Sources said that foods and choice wines flow there endlessly.
Rt Hon Kelechi Nwagwu is another former Speaker of Imo House of Assembly who is a power Broker in the present Government in Imo State.
Nwagwu who hails from Ikembara in Ikeduru LGA is said to be one of the legal minds that brokered the various "set-ups" that led to Uzodinma Judiciary Triumph.
Nwagwu who declined any position in the regime except Secretary to the State Government SGI, has since accepted his new position as a Power Broker and is said to be enjoying all of it as the Uzodinma Government has favoured him.
Another former Speaker of the Imo House of Assembly in the Uzodinma Power Game is Rt Hon Godfrey Dikeocha who hails from Aboh Mbaise LGA.
Trumpeta learnt that Uzodinma is propping him up to checkmate the Ihedioha persona in Aboh Mbaise, mostly as Ihedioha and Dikeocha do not agree politically.
This Newspaper learnt that since Uzodinma came to office, Dikeocha has been operating behind the scene for Uzodinma, and has been elevated to a Power Broker.
Chief Nnamdi Anyaehie, the Chief of Staff to Governor Uzodinma is said to be another major Stakeholder in the Uzodinma era.
Trumpeta was told that Anyaehie, who was a former Imo PDP State Chairman, courtesy of Senator Uzodinma's  impremature, sunk Billions of  his family wealth in seeing that Uzodinma was made Governor.
Therefore, he has become a major Power Broker who sees the Governor every day, and his House at Work layout Owerri has turned to an extension of Douglas House, as favour seekers line up every day begging for appointments.
He also over sees a lot of the contract jobs executed by the Government, which has turned him to a beautiful bride to contractors.
Prof Maurice Iwu, a former Independent National Electoral Commission INEC National Chairman is another person who Uzodinma cherishes his counsel.
Apart from making him Imo State Chairman of Covid 19 Committee, his younger brother, Chief Cosmos Iwu is the Secretary to the Government of Imo State, while the husband to his first daughter, Dr Wilson Nwafor, is a Special Adviser SA, to the Governor.
Iwu who hails from Ehime Mbano LAG is one of the "Free Advisers" to the Imo State Governor.
Chief Martin Agbaso (Ochudo) is rumoured to be one of those working from behind to advise the Governor on how best to steer the wheel of Imo State Train.
Even though nobody sees Agbaso again in Douglas House after the day he paid visit to the then newly-minted Governor, the Emekuku, Owerri North LGA born business mogul is said to have since returned back to his Mansion in Emekuku from where he dishes advice to the Governor whenever consulted.
Senator Modu Sherrif, a former Governor of Borno State and one time National Chairman of PDP is said to be one of the strong bones that kept Uzodinma in Power.
The Kanuri born Multi Billionaire Business Magnate, Trumpeta learnt, extends his political power to Imo State, through his political Associate, Senator Hope Uzodinma, who is now incharge of Imo affairs.
Chief Pat Ekeji, a former Director-General of National Sports Commission, is the only person in the Uzodinma administration who holds a position, with his wife.
While Pat Ekeji is the Deputy Chief of Staff (Administration), his wife, a former member of Imo House of Assembly is one of the Governor's Advisers who are yet to get portforlios and appointment letters two months after their inauguration.
Pat Ekeji who hails from Aboh Mbaise, is said to be one of those being hoisted by Uzodinma to be a check on his political nemesis, Rt Hon Emeka Ihedioha, in his own domain of Aboh Mbaise.
Comrade Adams Oshiomhole is the National Chairman of APC who directed Alhaji Gulak to hand over to Uzodinma the Imo APC Governorship ticket, against Okorocha's choice, Chief Uche Nwosu.
For his efforts, Oshiomhole is now a Power Broker in Imo. He was compensated with appointments as he made choices for Uzodinma's Government.
Chief Tony Chukwu remains one of those who usually gives "support" to every Government, as the Business Billionaire is only after his Business. He is one of the Power Brokers now in Imo State, as usual and made some choices for Uzodinma.
Chief Marcon Nlemigbo, a former State Chairman of Imo PDP, and now State Chairman of Imo APC is one of the Power Brokers. He not only put his son in the Uzodinma Government as a senior Special Assistant SSA, but he handles some of the juicy road contracts in Owerri, and has the ears of the Governor.