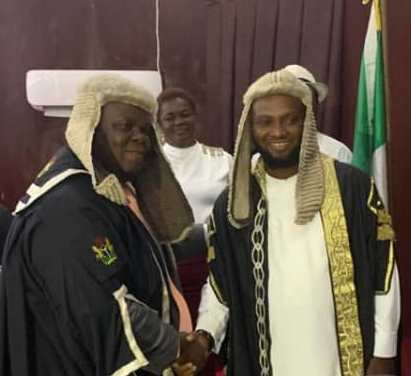 There may be no respite moment for the Speaker of the Imo State House of Assembly, Rt Hon Chiji Collins who appears to be witnessing turbulent times, as one of his former parties, the All Progressive Grand Alliance, APGA concludes arrangements to drag him, his Deputy, Rt Hon Chyna Iwuanyanwu and other defectors from the party in the Imo State House of Assembly, to court over unlawful defection.
Going by what APGA is saying of the Speaker and others, the troubles bedeviling Chiji since he became the Speaker may continue.
Speaker Chiji, his Deputy Iwuanyanwu and others APGA is not happy with for dumping the party, Trumpeta recalls were elected in 2019 under Okokroko party before they defected to PDP and latter APC.
Chiji had dumped APGA to PDP to be made Speaker and moments after Governor Hope Uzodinma emerged, the Speaker was on the move again to APC, same with the Deputy Speaker who represents Nwangele State Constituency.
From what Trumpeta gathered from APGA, the party has obtained needed documents from the Independent National Electoral Commission, INEC to proceed to court of law to legally declare their seats vacant.
APGA chairman in Imo, John Iwuala revealed that about six lawmakers of the State Assembly, comprising the Speaker and Deputy are involved and must be relived of the mandates.
According to the party chairman, the constitution prohibits such action against the party "when there was no crisis in APGA to had warranted their defection to another party that fought than during them doing the 2019 election"
Said Iwuala "APGA is ready to ask the court to declare the seats of the six Imo Assembly members who left APGA vacant and conduct fresh election. Nothing can stop the party from taking fire Brigade approach for their recall in court as they lack the locus standi to leave a party that brought them to power".
Speaking further on the issue, the party chairman opined that this would serve as a lesson to others adding "gone are days when members would play dirty with APGA again. Nothing would stop us from taking sever action against members who ridicule APGA".