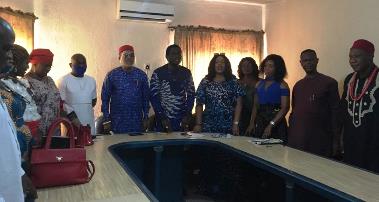 By: Tochi Onyeubi
An Igbo socio – political organization, Umu- Igbo Unity Forum Worldwide, has called on the federal government to see the need for restructuring and allow Ndi Igbo a chance at presidency.
The meeting which had it's theme, "Political Economic Progress and Unity Of The Igbo Ethnic Race" was extensively discussed and issues that critically affects the Igbo ethnic race both politically and economically in the South-East Geo political zone, were looked at.
Speaking in a press conference in Owerri, shortly after their expanded National Executive Council, NEC, meeting at De Legend Hotel, Owerri, the President, Chief Dr.Godwin Chinedu Duru, noted that Ndi Igbo has been an integral part of Nigeria and has contributed immensely to the development of the country, therefore equity demands that they be given a chance at leadership.
The president maintained that, restructuring has become necessary to help federating units of the zones and states to be self sustaining and can use their natural resources to improve their zones.
The meeting had in attendance delegates of the forum drawn from the five Eastern States which are Abia,Anambra,Ebonyi,Enugu,and Imo amongst also were those from other states comprising of Akwa Ibom,Delta,Rivers, Lagos and Abuja, the Federal Capital Territory.
In communique signed by Mazi Buchi Ogbonna, the Secretary General of the Association, the delegates program sternly frowned at the manner at which the Igbo's were being marginalized and outshined by successive federal government administration especially when it has to do with juicy positions that warrants political appointment into federal level.
They also complained bitterly on the ill-treatment of Ndi Igbo in the distribution of infrastructural development projects with no adequate funding of several ongoing federal government projects in the South East Region and also looked at the need for a unified security outfit for the South East as is obtainable in the west, to curb insecurity issues.
The president of the forum, Chief Dr.Godwin Chinedu Duru, Ezeudo II, equally beckoned on all true Igbo sons and daughters, both home and in diaspora to identify with the association by registering and becoming a full member so as to enable them team up as one to achieve their set goals and objectives.