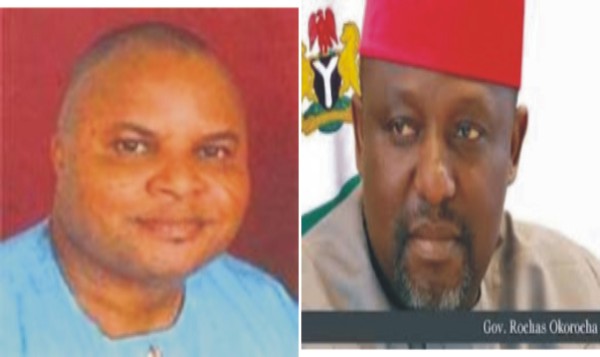 By Marcellus Ekwezuo
My attention has been drawn to Ethelbert Okere's "Agony of A privatized State" published on page 19 of the Daily Sun of April 3, 2013 and in some other Imo State based tabloids.
In the said write up, Dr. Okere Literarily went into wild goose chase hinging his arguments primarily on his alleged Governor Rochas Anayo Okorocha's "disdain for due process"  and diversion of public funds through [what he referred to as] nonexistent contracts without documentation."
Ordinarily, one is not bothered by the rabble – rousing of a drowning hag or disturbed by the yelling of a lone captain whose ineptitude and negligence orchestrated his sinking with his ship.
Okere's publication however drew the ire of all well meaning Nigerians and Imolities in particular owing to the wide publicity his irrational article was given through the Sponsorship of Imo people's avowed enemies (who seem to have sworn not to see or say anything good about the on going rescue of the good people of Imo state).
It is unarguable that what Dr. Ethelbert Okere may be referring to as non-compliance with due process by the Rescue administration is a misconception and misconstrue of the speed with which Governor Okorocha follows this "due process" and gets myriads of the people-oriented projects in Imo State executed! This baffles them! Governor Rochas Okorocha follows due process in all its ramifications.  What he may rightly accuse Governor Okorocha in this regard is that the Owelle does not follow what I may call "Criminal Due Process" which characterize greater percentage of PDP led administration nationwide!
If Dr. Okere is telling the world that he and his sponsors are not happy that his boss, Chief Ikedi Ohakim; a one time, one tenure Governor of Imo state was humiliated out of ruler ship eternally by people of Imo State; or if Dr. Okere is telling his readers that they felt ashamed and dwarfed by the towering strides of His Excellency, Owelle Rochas Anayo Okorocha (OON) in this Eastern Heartland and pride of the Igbo race, that is quite understandable. But that the rescue mission is involved in what he calls "…. unwholesome diversion of public funds through phantom award of contracts without any documentation of or that '… Okorocha uses fake contractors to loot Imo funds'" is simply mendacious!
Of course, most of the world's greatest achievers are mostly not respected in their home town. This may have made Dr. Ethelbert not to see "the Owelle Wonders" in Imo State. No wonder, the Honorable minister of information, Mr. Labaran Maku once stated, "there has been no change agent that has not been abused or misunderstood". I think, Ethelbert Okere in "the Agony of A privatized State" is only doing that, which he knows how best to do, – churning out malicious propaganda!  All discerning Nigerians and Imolities in particular should discountenance his literary antics aimed at a subtle discrediting of the marvelous achievements of Governor Rochas Anayo Okorocha.
For the avoidance of doubt, Governor Rochas Okorocha's administration has been severally accused of drought of information with respect to the myriads of the world class projects which his administration had executed throughout the length and breadth of Imo State.
His education policy and projects, massive infrastructural development on virtually all the nooks and crannies of the 27, Local Government Areas of Imo State and housing to mention  but a few is an indication that Governor Rochas Okorocha has no need for any 'desperate attempt to cover up…' as Ethelbert Okere would like his readers to believe.
Only recently, I was mesmerized by what I saw when I visited the Imo State Palm Plantation formerly called Ada Palm. The Owelle's rescue administration has completely transformed the farm! Now tell me, is it part of the contracts Ethelbert Okere is calling fake? Or can it be rightly stated that the transformation and replacement of the hitherto dilapidated and obsolete antiquities referred to as the Imo Government house by the Ohakim's Government but which is now comparable to the Sydney Opera house that has since been classified as the 8th wonder of the world; (all courtesy of the Owelle administration), part of Ethelbert Okere's "…Phantom projects" in Imo State? I think the answer s no!
It may interest the reader to know that there is a total of 305 INEC recognized wards in Imo State. As it is now, 305 School buildings are currently under construction by the Owelle Rochas Okorocha led administration in Imo State. This is a complete change from what obtains in the most recent past administration when schools are closed at random, strikes and lockouts a near permanent feature, while non-payment of teacher's salaries was a cooperate identify.
Please, are all these classy and aesthetically pleasing buildings parts of Governor Okorocha's "flair for transferring his own guilt on the others?" Ethelbert Okere and his Sponsors have the answer?
Dr. Harold Wilson Onumo of the Federal Medical Center Owerri like his partner Dr.Ethelbert Okere seems to have a well coordinated campaign of calumny against their common "enemy," the rescue administration in Imo State. In a recent interview he granted to the Sun Newspaper published on the same Wednesday, April 3, 2013, edition page 26, like their master the Imo State Peoples Democratic Party (whose venomous, vociferous but senile sentinel attack is childishly anchored on the threat to 'invoke' anti  graft agencies against the Rochas Okorocha led administration) inferred that he hasn't seen anything good with the Owelle  led administration. Dr. Onumo specifically singled out the health sector for castigations.
Haba!
Though it is subject to verification, the hospitals left behind by the ousted PDP led administration in Imo State "… were (according to Dr. Onumo) using candle lights to attend to patients at night whenever the "I  pass  my  neighbours" generator that they use break down …," But this is why the Owelle Rochas Okorocha is making a concerted and concretized efforts to rescue Imolites from the situation. Dr. Onumo was no doubts myopically concerned with pleasing his masters like his Ethelbert Okere counterpart. Other wise, why was it so difficult for Dr. Onumo, Dr. Okere and the PDP chairman in the State, Eze Duruihuoma (who also granted an interview against Okorocha in the same publication) to tell their readers that Governor Rochas Okorocha shortly on assumption of office (less than 23 months ago) embarked on the construction of 27 new General Hospitals, that is one for each Local Government Area! Most of these constructions are at the verge of completion. Or is the construction of 27 world class General Hospitals around Imo State by Governor Okorocha part of Dr. Okere's alleged "phantom projects"?
There is no gain saying the fact that why Ethelbert Okere, Dr. Onumo and the PDP may viciously be hurling their innumerable darts at the Owelle led administration is ostensibly partly because of their alleged yet to be proven N26.27billion which they claim to have forgotten to siphon into their personal bank accounts before they were disgraced out of office.
I think this allegation is part of the most wicked and deceptive of the public by Dr. Okere, Dr. Onumo and Eze Duruihuoma (SAN). Why, because the rescue administration of owelle Rochas Okorocha have time and again explained to the public that the immediate past administration left no money in government coffers. Rather, Chief Ikedi Ohakim's administration hung over fifteen billion naira (N15bn) debt on the neck of the succeeding Rescue administration being various sums they borrowed from diverse banks to implement their election for their fruitless second team bid. And even if such amount was "forgotten" as they are alleging, are Ethelbert Okere, Dr. Onumo and Eze Duruiheoma of the Imo State PDP oblivion of the constructions of 15kms of road in each of the 27 LGAs of the State? This alone Sums up to 405kms of roads which their administration could not construct for Imolites. What if part or all of their alleged but unsubstantiated money in reference has been used for these projects? Are they telling Imolites that it is too much for projects that are beneficial to them against hundreds of billions of Naira hitherto cleverly stacked away in some personal disguised bank accounts both within and outside Nigeria? It is also note worthy to remind the trio that in addition to the 15kms of road in each of the LGAs, the Owelle administration has constructed the new government house roads. Is it not surprising that Ethelbert Okere will refuse to refer to the dual road built across Otanmiri River with bridge, the 6.4km road from Douglas road to Naze Junction fully dualized with a roundabout  as well as 6km road and Dee Sam Mbakwe link road with bridge across Nworie River. What of the Imo Broadcasting corporation, IBC broadcasting studio transformed by Governor Okorocha as well as the Imo government printing press?
It is not necessary boring the reader down by enumerating the innumerable people  oriented projects executed within the short space provided here. They are all concrete projects that can be verified.
It is just disheartening when a few disgruntled bands of enemies of progress are misinforming and misleading the people!
Ethelbert Okere and his group are now weeping so bitterly like the cheetah struggling fruitlessly to "save Nigerians and the Imolites in particular. While their predicaments are quite appreciated it is necessary to be cautious and wary of their overnight repentance lest their self  imposed volunteer efforts to help us out of a "seemingly helpless situation" turns out to be the kind of assistance the monkeys offered to save the fish.
According to an old story told by Okigwe people and our Tanzanians, the rainy season that year had been the strongest ever and the river had broken its banks. There were floods everywhere and the animals were all running up into the hills.
The floods came so fast that many of the animals drowned except the lucky monkeys who used their proverbial agility to climb up into the tree tops. They looked down on the surface of the water where the fish were swimming and gracefully jumping up and down inside the water as if they  were the only ones enjoying the devastating flood.
One of the monkeys saw the fish and shouted to his companion, "Look down my friend, look at those poor creatures, they are going to drown. Do you see how they struggle in the water?" "Yes", said the other monkey. "What a pity! Probably they were late in escaping to the hills because they seem to have no legs. How can we save them?" "I think we must do something. Let's go close to the edge of the flood where the water is not deep enough to cover us, and we can help them to get out." So the monkeys did just that. They started catching the fish, but not without difficulty. One by one they brought them out of the water and put them carefully on the dry land. After a short time there was a pile of fish lying on the grass motionless. One of the monkeys said, "Do you see? They were tired, but now they are just sleeping and resting. Had it not been for us, my friend, all these poor people without legs would have drowned." The other monkey said, "they were trying to escape from us because they would not understand our good intentions. But when they wake up they will be very grateful because we have brought them salvation." This is the kind of assistance Dr. Ethelbert Okere, Dr. Onumo and Chief Eze Duruiheoma is proposing to give the people of Imo. But it must be sated that if additional help is necessary for Imo people who are currently in some kind of Eldorado, it is obvious that it should not emanate from a group of people whose stock in trade is misinformation and misleading of the masses.
Marcellus Ekwezuo Writes from Okigwe, Imo State, Nigeria, West Africa.