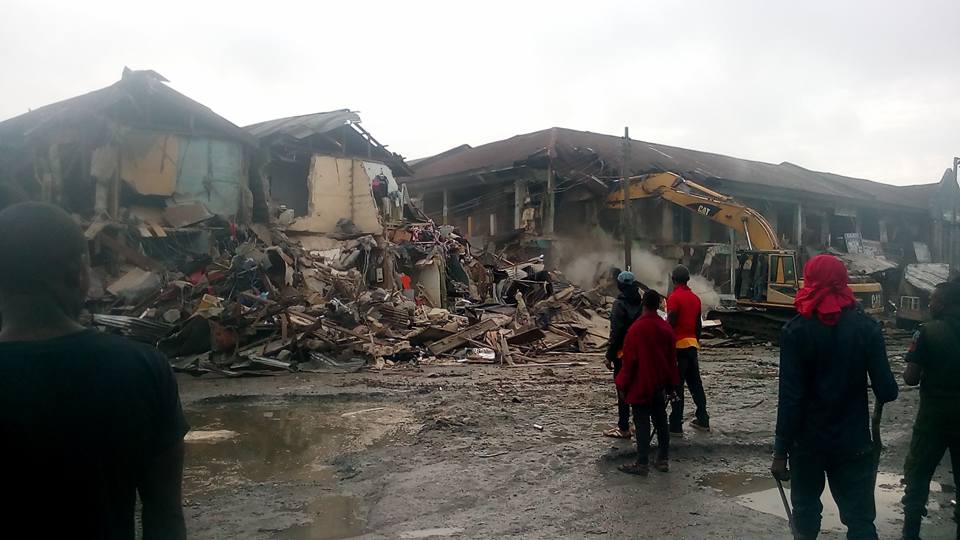 By Okey Alozie
Worshipers at St Paul Catholic Church Douglas Road, Owerri Imo State are now facing difficult time following the complete-shut down of Douglas Road coupled with presence security personnel and government agents that blocked the major entrance of the church thereby restricting people from coming in freely to the worship centre.
Our reporter who visited the place (Douglas Road) observed that heavy armed security men were mounted on the road to stop movement of people for the construction work on the road to proceed without delay.
Information revealed that hoodlums cashed in on the opportunity to scare people away and looted properties. Tension around the demolished Ekeuwku market is said to have heightened as Traders gear up for a Dog fight with security personel. Those who attend morning mass on daily basis and other meetings at the church have now resolved to keep away in order to save their lives.
It was also gathered that Environmental Transformation Commission (ENTRACO) Agents were said to have been in serious battle with indegens of Owerri over the weekend concerning the development at Douglas road. Some of the traders complained that in the process of forcing them out of their shops their goods were looted, adding that they are now facing serious hard times.
"We have no place to go to and no place to sale our goods" Owerri traders lament.
The traders narrated that since Governor Okorocha demolished Ekeukwu market, no better place have been provided to accommodate the affected traders and nothing much have been done to rehabilitate all the demolished markets in the State to absorb the displaced Traders instead people who claim to be government agents come on daily to extort them of money.
In the same vein, the TAXI and Bus Drivers also complained of Intimidation and Extortion of money government taskforce. Mr Chime Okorie, a Bus Driver in Owerri who spoke to our reporter disclosed that the inhuman treatment meted on commercial Bus and TAXI Drivers by ENTRACO officials and other government agents have come to alarming rate. He revealed that a lot of boys who come from sister communities claiming to be working with Imo State government extort over N1,000 on daily from Commercial Drivers and Traders.
Mr Chime therefore begged Governor Rochas Okorocha to address this particular issue and protect commercial Bus and TAXI Drivers in Owerri to avoid a showdown with motorists operating in Owerri.
In a related development, Governor Rochas Okorocha last Saturday visited World Bank Estate and gave all those trading along the road quit notice. He threatened to demolish all illegal shops built after the expiration of the 3 days quite notice given to them.
The Governor raised eyebrows over the unhealthy condition of World Bank road and vowed that he must sanitize the place.
The Governor insisted that all the Houses built on the water way and other unauthorized places must be pulled down without compensation to the owners.
Some of the landlords and shop owners in the area who spoke to our reporter vowed to resist any attempt to demolish their property by any government agent any more. They advised Governor to go and complete work at all the demolished markets in Imo before demolishing more.