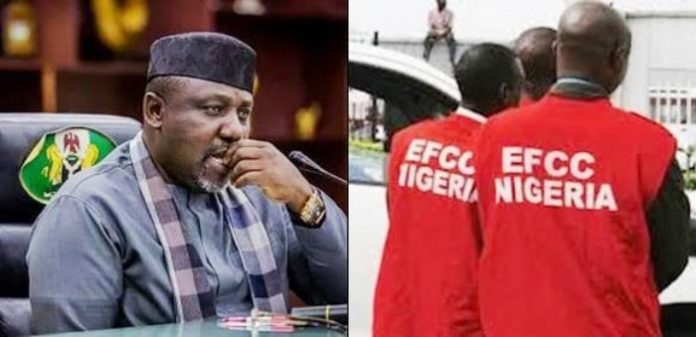 By Okey Alozie
More stories about what transpired with companies who handled contracts during the Rochas Okorocha era have continued to unfold as the Judicial Panel of Inquiry continue to take witness accounts.
While standing on the witness box, the boss of one of the companies, Stanley Enwereaku, who handled several contracts worth billions of naira, named Zigreat International Company Ltd, made startling revelations of his encounters with former governor Okorocha.
According to him, the encounters with Okorocha and what the former governor ask him to do almost turned him a serial liar.
The Zigreat owner claimed that when he returned from the Economic and Financial Crimes Commission, EFCC, Enugu office, he had a private meeting with Okorocha based on the Senator's invitation. Enwereaku alleged that the former governor was happy with him for claiming to have handled billion naira worth of contracts awarded to Zigreat.
In his words before the judicial panel, he claimed, "after thanking me for all the lies that I presented at EFCC, Enugu, he jocularly begged I be his Chief Coach on how to generate stories on contract matters.  He told me to start coaching other contractors handling Imo State projects on how to pass through investigations of EFCC and other anti graft agencies set up by Government.
He accused the former governor to have mandated him to ensure other contractors do same which he claimed to have rejected.
"I refused to accept to lie against my conscience any longer and at the end, I failed to do so". He narrated
While the Zigreat owner was at the witness box of the probe panel, one of the panel members asked if Okorocha was aware of his trip to Enugu State to face (EFCC), Stanley answered yes. At this point, the case was adjourned to the 21st of May 2020 for further hearing.
It could be recalled that penultimate Tuesday, Stanley Enwereaku, the owner of Zigreat company came to the panel to reveal that his company never executed any contract in Imo as alleged in the state by people from different walks of life.
He said also that his company was only used to warehouse money which he always share according to the directive of his boss, Hon Paschal Obi, the then principal secretary to the Governor of Imo State.
He further said that his company never subleted any contract to any company stating that anybody that makes such claim is a liar.
He therefore submitted list of those people that took part in the sharing of the big amount of money that he used to wire house for Imo State government.
In addition, he revealed a government agency is now after him because he is yet to pay tax for the big amount of money his company warehouse and shared.
"Am now in big trouble because of this" Zigreat owner lamented.