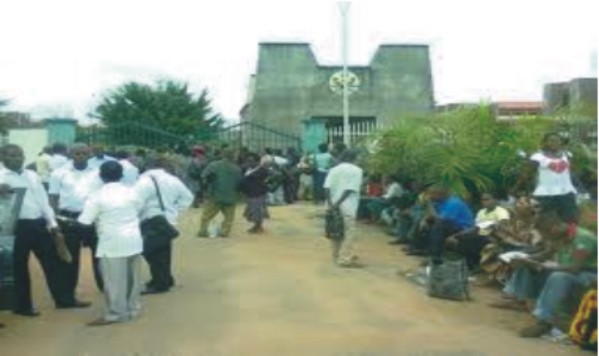 By Okey Alozie
There is serious confusion now going on at the Imo State Local Government Service Commission and if nothing is done fast, the situation will lead to exchange of physical blows.
Our reporter gathered that the Heads of Departments are not at peace because of what they called aberrations that is existing at the Local Government Service Commission.
Initially, the Directors at the Local Government Commission accused the Perm Sec Local Government Service Commission of high handedness, abuse of 2006 approved scheme of service, misuse of Public Service scheme, non implementation of Imo House of Assembly Directive on Local Government Service and abuse of sanity in LGSC.
They also said she was highly biased in the postings and recent transfers.
Some of the Directors who spoke to our reporter on the condition of anonymity revealed that Mrs Izuogu has over stayed in office. "Izuogu has turned the system upside down as she has defied the standard rules of the civil service" they directors said.
Information revealed that the head of the local government (a level 17 officers) which supposed to exist in the 27 LGAs is not recognized.
Barr Mike Ndubuaku the former chairman of the Local Government Service Commission, gave Gen 35 to the appointed level 17 officers who were asked by the government to serve as head of local government services but along the line the whole arrangement was messed up and it alleged that Izuogu was instrumental to that as the level 17 officers were not allowed to stand as the head of LGAs as was initially agreed upon.
The harmonization that was done by Mrs Izuogu it was alleged favoured only the Directors of Administration and General Services (DAGS) and Treasurers of Local Government (TR).
Other heads of departments as we gathered were marginalized and this is causing a lot of confusion now.
Some of the DAGS and Treasurers who spoke to us agreed that the Perm Sec should have listed the Heads of other Departments as she did for administration and financial Departments in the 27 Local Government Areas of Imo State.
"The harmonization is unacceptable" the Directors submitted.
When contacted the Perm Sec Mrs Izuogu advised the aggrieved groups to sheath their swords and for the Commission to be inaugurated adding that she has done the harmonization inline with Civil Service rule.
"This is an establishment issue.
'Those aggrieved should wait for now and allow peace to reign. The Commission will soon be inaugurated" she declared.
It was said that Izuogu has done well in the area of verification exercise as we gathered and the State government as we were told allowed her to continue the verification exercise. This time, she has invited Agric and Health staff for their own verification.