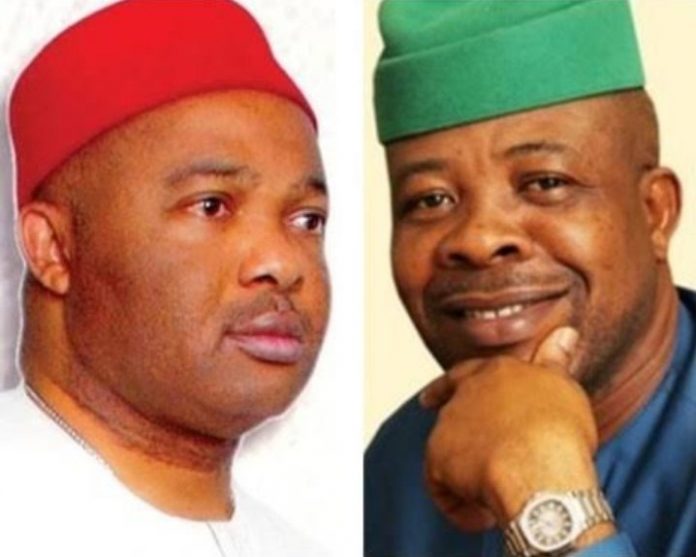 Indications are that the incumbent Governor of IMO State, Senator Hope Uzodinma and his erstwhile Predecessor, Rt Hon Emeka Ihedioha are set to knock horns again,this time over the vacant seat of Ngor Okpala State Constituency.
This followed high interest shown by both men following the bye election slated to hold in the Area in March,2022.
The seat was declared vacant after the former Lawmaker representing Ngor Okpala,Tochi Okereke absconded, without attending Plenary for months,causing the Speaker to invoke the Constitution which said a Seat could be declared vacant after a certain period if the Legislator goes on AWOL.
Therefore, this Newspaper learnt that Governor Uzodinma wants to use this opportunity to add Ngor Okpala Constituency to the Kitty of his Political Party,All Progressive Party, APC.
Trumpeta also was told that Uzodinma wants to win the seat as the incumbent Governor, since his party could not win a single seat in IMO House of Assembly in 2019 election, but only have defectors from other parties.
However, the Leader of Peoples Democratic Party in Imo State and former Governor, Rt Hon Emeka Ihedioha is said to have told PDP,especially in Ngor Okpala LGA to work hard and retain the seat.
Emeka Ihedioha represented Aboh/Ngor Okpala in this House of Repesentives and sees Ngor Okpala as his immediate Constituency and therefore will fight hard for PDP to retain the seat.
Meaning, Gov Uzodinma is said to have told Ngor Okpala APC that he has a Candidate in mind who will win the election for APC.
For the Governor to show such much interest in the matter, Ihedioha is also said to be interested too and sees it as challenge in his own political domain.
Therefore, Pundits see the election as a fight between Ihedioha and Uzodinma after the 2019 IMO Governorship election which Ihedioha won, but Uzodinma snatched it from him from the Court.
Already, it was learnt,PDP is making sure that a candidate who will give APC a fight for their money is used to execute to tough election.