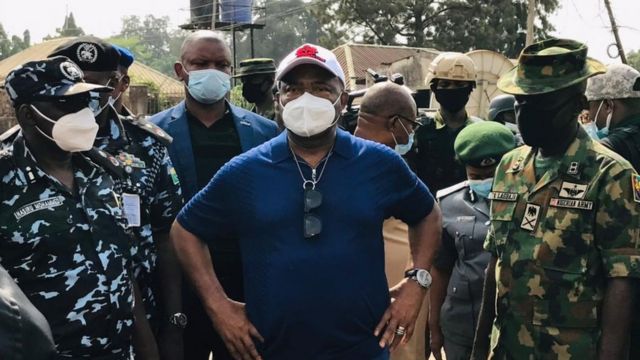 Uzodinma's Aides Who Lost Booths, Wards, LGAs In Trouble
.Avoids Govt House Function
These may not be best of the times for appointees of Imo State Governor, Senator Hope Uzodinma who could not deliver their polling units and wards in the just concluded Presidential/National Assembly elections.
But for the coming Saturday State Assembly elections, Trumpeta learnt that casualties would have been witnessed among loyalists and appointees serving Uzodinma government.
This newspaper gathered authoritatively that Govt House, Owerri under the control of Uzodinma is not happy with some trusted political heavyweights in Imo APC and those serving Uzodinma who failed woefully in their polling units, wards and LGAs.
Despite having two Senators of the three zones and three Reps members of the seven seats declared so far, it was learnt that the camp of the governor is not too happy with the outcome, especially where same leaders were trusted with the votes.
Reports gathered that in some areas of Owerri zone, most of the leaders failed to prove their mettle at the polling units that led to the loss of the APC candidates in the zone.
Except for Mbaitoli/Ikeduru Federal constituency where the APC candidate, Akarachi Amadi has a chance to win in the re-run slated for Saturday, it was a dismal outing for the party in Owerri Federal Constituency, Ngor Okpala and Mbaise where non of the party's Reps candidate including that of Senate win.
The governor was said to have expressed disappointment that the leaders could not show capacity expected of them.
"Oga (the Governor) is not happy at all with the dismal outing of some of our leaders.
Except in most of Orlu zone and parts of Okigwe, that of Owerri zone is worrisome", said one of the eggheads in Government House, Owerri, who spoke to our reporter in confidence.
"Most of them who failed to deliver are in trouble and they have nothing to explain. The governor is not happy about this", he added.
Though the source couldn't offer what next, but it was further learnt that subtle sanctions may be placed against them for such failures.
Trumpeta investigation has it that most of the appointees in Owerri zone failed to deliver their respective polling unit and wards.
What further irked the party leader in the State, was that most of those were properly mobilized with the necessary "Logistic" to deliver which they failed to.
"Something will happen to them who failed, but for now I don't know what it will be" the source said.