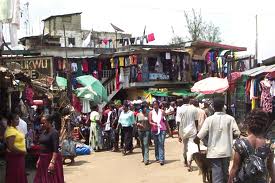 Elders of Owere- Nch Ise (Owerri Municipal) have strongly opposed the relocation of Eke Ukwu Owerri market and demolition of Structures in old Owerri town.
They advised Governor Rochas Okorocha to avoid a situation for Otokoto saga to repeat itself in Owerri if he insists on relocating the market.
In a statement signed the elders drawn from the four of the five villages in Owerri namely Umuororonjo, Umuonyeche, Umuoyima, and Umuodu autonomous communities, they said it is their duty to let the government of Imo State know that its current policies of moving Eke Ukwu Owerri market and demolishing structures in Old Owerri town are not acceptable to the indigenes of Owerri municipal.
They said Owerri may become a theatre of warfare and bloodshed if government insists on relocating the market stating that "the Imo Anthem which proclaims that Imo State will be better will become mere sham".
The Elders backed the demonstration of women and youths "but being elders cannot be seen on the streets of Owerri town carrying placards and chanting as they did"
They advised the Government on how to ensure free flow of traffic along Douglas Road which can be achieved without removing the market.
Such measures, according to the elders, include relocate all street traders along Douglas road from Mbaise raod junction to Ama JK roundabout and relocate all street traders from Chikwere street junction at School road to Douglas.
Other measures it suggested are: relocate all street traders from Chikwere street junction at Christ Church Road through Christ Church gate to School road and relocate all street traders along Ekeonunwa Street to Douglas Road.
While expressing their willingness to dialogue with the State Government on the issue, the elders reminded Okorocha that four of the five communities in Owerri voted massively for APC and there was a resounding victory for APC, "despite lack of total consultations with the elders of Owerri municipal or major stakeholders in the Municipal before government embarked on what will definitely affect the well being of the indigenes of Owerri town"
Among elders who signed the statement include Hon Justice Duke Njiribeako (Rtd) and Victor Oparanozie, Mr. D.O.C Agunonu and Obilobi Francis Nnawuch (Umuororonjo village), Mr.Braimoh Njoku Ugorji, Mr. Godwin N. Anowey fro Umuonyeche, Chief Davidson Onuoha, Chief Eugene Opara, Mr.Oliver Orisakwe and Elders Samuel Anoruo signed For Umuihugba- Umuodu community
Hon Chief Nze Sir Ekperemarachi, Chief Emmanuel Anokwu, Duru Mbanu Lawrence and Brendan C. Onyeneke signed for Umuoyima community.