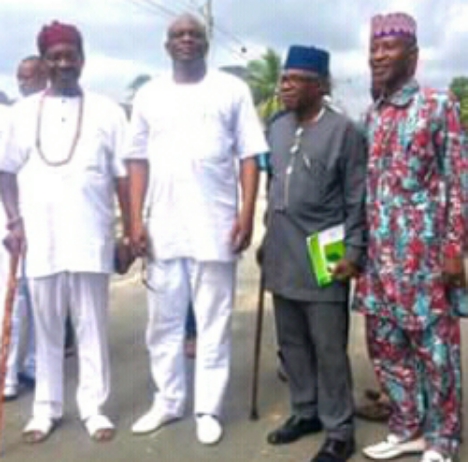 By Amaechi Kingsley
The chairman, Board of Trustees and Imo state caucus of Oil & Solid Mineral Producing Area Landlords Association of Nigeria OMPALAN, Bishop Udo Azogu has formerly inaugurated the association's Local Government Executive Committee's (LECs) in Imo State.
The ceremony which attracted the presence of eminent Nigerians, professionals, stakeholders in the oil and solid mineral industry from the various LGAs of Imo State to Oguta last Wednesday witnessed the LECs chairmen  inauguration, which includes; Chief Fidelis Enyia: Ohaji/Egbema, Rev Canon E. O. Onwubie: Oguta, Prince Amanze Nwakweh: Ezinihitti, Ugochukwu Williams: Owerri Municipal, Ogu Onuma: Owerri West, Hon Chris Onwukwe: Mbaitolu, Hon Ejike Azubuike: Okigwe, Hon Emma Okafor: Orlu, Hon Chief Ike Umunna: Oru West, Prince Anyanador: Oru East, Hon Innocent Onwuemeyi: Isu, Hon Ifeanyi Onwuakaije: Nwangele, Hon Okwuchi Okeke: Obowu, Dr. Louis Ugwuolo: Aboh Mbaise, Felix Ogoke: Ihite Uboma, Hon Emeka Ohaegbu: Ehime Mbano, Hon (Mrs) Nneka Ndukwu: Ideato South and Pastor George Nwadike: Nkwere.
In a keynote address, Chairman of the Association's Board of Trustees & National Leader, Bishop Udo Azogu stated that OMPALAN is a critical NGO established by law to promote social interactions and create a conducive investment climate for legitimate business concerns in the areas of mineral development across the Country and contribute in strengthening corporate governance by identifying and plugging dangerous loopholes in governance.
The Prelate of Our Sanctuary Gospel Church and member of the Imo State advisory council urged the Chairmen of LECs across the Country to uphold the great responsibility of ensuring success of the organization at the grassroots levels of Districts and Communities.
Admonishing members on their conduct and approach to the 2019 general elections, Bishop Azogu called on teeming members and supporters across the Country to obtain their voters cards and use their ballot papers effectively to deliver credible candidates, believing that OMPALAN can play a pivotal role in deciding the Country's representatives at the various levels of governance.
According to him, "The association does not belong to any political party in Nigeria. However, we encourage our members and supporters alike to identify with credible candidates from the various political parties who are OMPALAN- compliant in working to preserve the environment of impacted communities. It is my sincere desire that our teeming members and supporters alike will contribute to a free, peaceful, credible and transparent electoral process by shunning every untoward action in the build-up to 2019. We call on the national electoral body, the INEC and Security organizations across the Country to shore up their constitutional responsibilities of ensuring that the 2019 general elections are conducted with the highest assurances of transparency and credibility. We also call on politicians to play by the rules and engage in practices that will revive the appeal of electioneering campaigns compatible with civilized climes", he stated.
He congratulated the National Assembly for passing the Petroleum Industry Governance Bill (PIGB) – intended to revamp the redundant labour market, usher in greater transparency and accountability in the management of the Country's petroleum resources, adding that they  align with the National Assembly on the planned passage of the Fiscal and Host Community Bill being a component of the PIGB.
OMPALAN however called on the Federal Government not to review the onshore-offshore dichotomy which has helped to stabilize the polity. "It is our sincere desire that the Presidency adopts the association's blue-print on sustainable peace, security and effective monitoring mechanism of palliative programs to impacted areas called Mining Security & Monitoring Agency of Nigeria (MISMAN) in addressing socio-economic imbalances in mineral producing areas of Nigeria", he concluded.
Participants at the meeting include: State Leader: Bishop Udo Azogu, External Affairs Coordinator: Igwe Dr. Azubuike Ndubuaku, State Chairman: Hon Ken Ekwueme, State Facilitator: Chief Ihem Davis, State Facilitator: Bishop Prof Uzoma Emmanuel, Deputy State Chairman: Chief Lakas Onuigwe, State Secretary:  Okpara Kelechukwu Obioma, State Liaison Officer: Hon Chief Aloy Anele, State Woman Leader: Dr Mrs  F. N. Nwulu, State Youth Leader: Comrade John Nwulu, PA to State Leader: Prophet Jacob Eneberi.