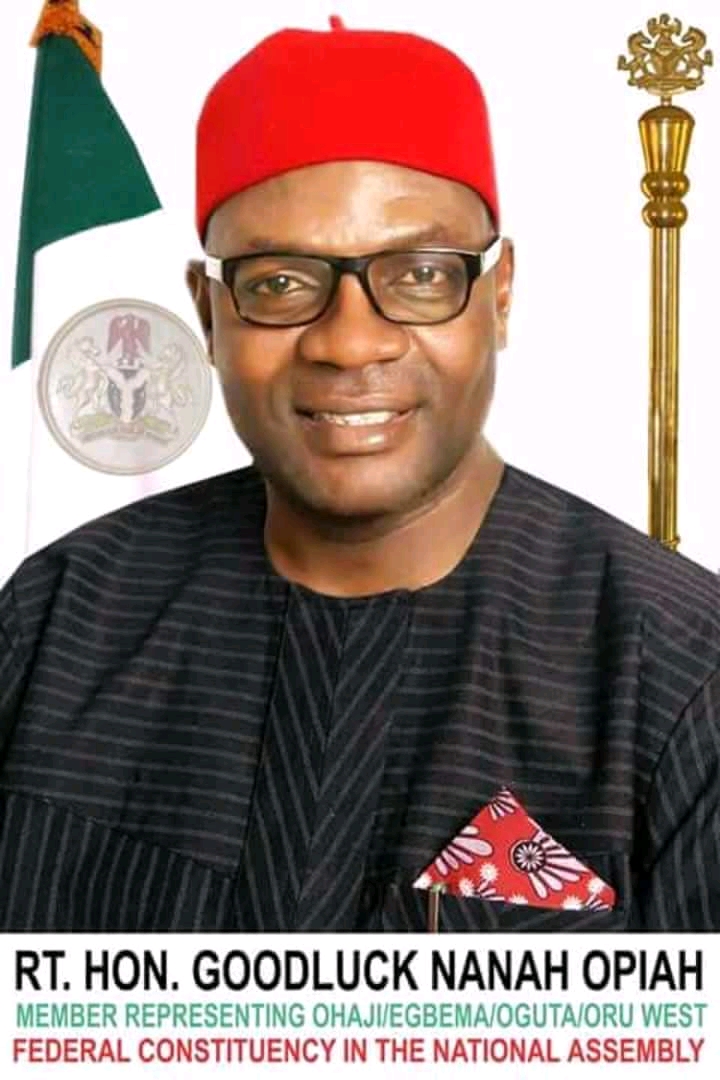 The former speaker of the Imo State House of Assembly and member who represented Ohaji/Egbema, Oguta, Oru West in the House of Representatives 2015-2019, Rt Hon Goodluck Nanah Opiah has been described a very good man who deserves to be honoured.
Making this known was the former Inspector General of Police, Sir Mike Mbama Okiro during a reception organized in honour of Opiah by Hon Stanley Okanne at Mmahu, Egbema, in Ohaji/Egbema LGA of the State on his recent appointment as Coordinator/Special Adviser on Oil and Gas to the Governor.
According to Okiro, Opiah is a rare specimen in the political field considering his antecedents since he came up to represent interest of his people at the State House of Assembly and House of Reps.
Speaking at the reception venue, Okiro said that Opiah is one politician that is different from others as he can not only be trusted but counted as a reliable representative of the people any day.
"I am a testimony to the fact that Opiah is a good man based on his service to the people so far. There are good things he has done that signify he is a good man. I am not surprised that he is been honoured today by those who have felt his good sides".
Speaking earlier, the host, Hon Stanley Okanne said that having evaluated what Opiah had done for the people of the State, especially the oil rich areas of Imo, and in consideration of the new appointment, the hosting event became necessary.
Okanne who ran for the Imo State House of Assembly APC primaries for Ohaji/Egbema State constituency in 2019 disclosed that Opiah has been a leader with capacity who has delivered dividends of democracy. He said that to appreciate his good works and encourage him to do more for the people was what motivated him to organize a reception in his honour.
Okanne the CEO of Stanbaz International further said majority of the promising youths of the area excelling in several fields of endeavor owe their growth to Opiah's assistance and mentorship.
He further urged the youths and entire populace to give Opiah the support to excel in his new position as Coordinator for Oil and Gas and Special Adviser to the Governor of Imo State, Senator Hope Uzodinma.
Speaking at the event, Opiah said that after his sojourn at the House of Reps, he didn't return to take up appointment in Imo State. Rather he came to support Senator Uzodinma succeed because it was a government he is part of. "I wanted to be tagged friend of the governor, not to take appointment from the government".
Opiah further disclosed that what prompted him to take up the offer was because no previous administration has looked at this aspect of Oil and Gas matters which affects the Oil producing areas except Uzodinma. He said that the interest of the governor on what affects his people forced him to take up the challenge for the good of the oil producing areas.
Several distinguished personalities thronged the occasion which includes the Deputy Speaker, Rt Hon Amara Iwuanyanwu, his Orsu counterpart Freedoline Nnodimele, former lawmakers, traditional rulers and political stakeholders like the IMC Chairmen of Ohaji/Egbema, Oguta and Oru West.