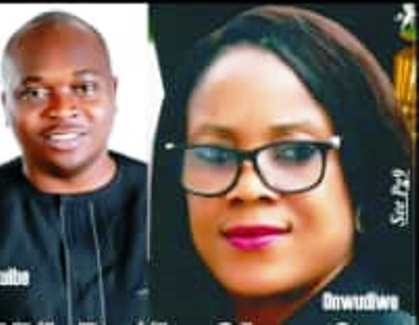 The Candidate of the New Generation Party NGP for Ahiazu Mbaise State Constituency who, also was the first runner up in the 2019 Imo House of Assembly elections, Hon. Juliet Chiemenem has taken a swipe at the Member representing Ahiazu Mbaise State Constituency in the Imo State House of Assembly, Hon. Samuel Otuibe, who recently, was alleged to have Molested a Female lawmaker, Hon Uju Onwudiwe, during a meeting.
She described as totally shameful, his rather barbaric behavior, stating that she knew Otuibe totally lacked the necessary finesse, maturity and legislative competence to represent the good people of Ahiazu Mbaise but never knew he had such extreme Violent and  barbaric proclivities, undeserving of an Honourable Member.
In a press statement she made available to journalists, Chiemenem frowned at Ouibe's highly indecorous, thuggish attitude, as it falls short of the high ideals and values held by the peace loving Mbaise Nation, who are known to truly value and care for their women.
More worrisome she said is the fact that this is coming at a time when the world is united in promoting women inclusion into politics and fighting against violence against women especially domestic violence.
Hon Juliet Chiemenem, who is also the President of JULIET CHIEMENEM FOUNDATION FOR WOMEN AND GIRL CHILD DEVELOPMENT, added that "This shameful and despicable act of his has brought discredit to Ahiazu Mbaise Local Government and Mbaise Nation generally and he doesn't deserve our Mandate."
She continued, "We sincerely apologize to Hon. Uju Onwudiwe on behalf of Ndi Ahiazu Mbaise but however insist that Otuibe be made to face the music in line with provisions of the House of Assembly  Rules to act as a deterrent to other Women Molesters and Violators". Mrs Juliet insisted that Hon. Otuibe must as a matter of sobriety, come down from his high horse and apologize to Hon. Uju Onwudiwe, to show remorse for his ignoble actions.
"Ndi Ahiazu Mbaise do not deserve a "Dishonorable" Member, who lacks competence, self control, proper conduct and maturity to represent them in the Legislature" she said.
"Indeed, all Imolites must say no to violence against women and acts capable of tarnishing the image of the State and her Legislature". She maintained.