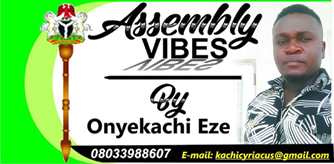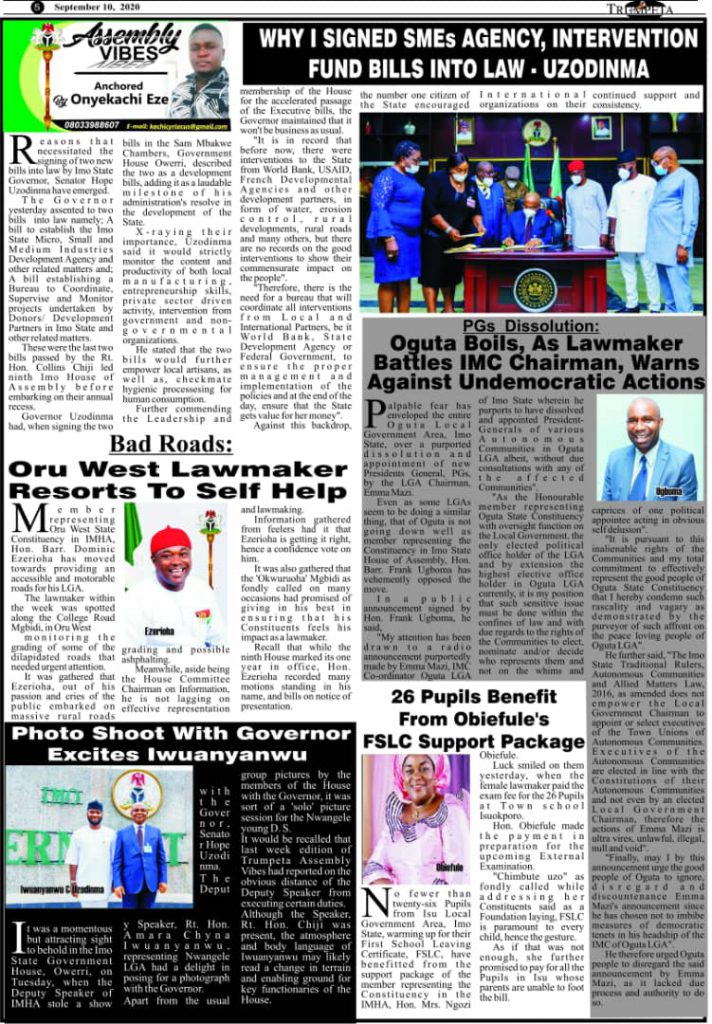 Reasons that necessitated the signing of two new bills into law by Imo State Governor, Senator Hope Uzodinma have emerged.
The Governor yesterday assented to two bills into law namely; A bill to establish the Imo State Micro, Small and Medium Industries Development Agency and other related matters and; A bill establishing a Bureau to Coordinate, Supervise and Monitor projects undertaken by Donors/ Development Partners in Imo State and other related matters.
These were the last two bills passed by the Rt. Hon. Collins Chiji led ninth Imo House of Assembly before embarking on their annual recess.
Governor Uzodinma had, when signing the two bills in the Sam Mbakwe Chambers, Government House Owerri, described the two as a development bills, adding it as a laudable milestone of his administration's resolve in the development of the State.
X-raying their importance, Uzodinma said it would strictly monitor the content and productivity of both local manufacturing, entrepreneurship skills, private sector driven activity, intervention from government and non-governmental organizations.
He stated that the two bills would further empower local artisans, as well as, checkmate hygienic processesing for human consumption.
Further commending the Leadership and membership of the House for the accelerated passage of the Executive bills, the Governor maintained that it won't be business as usual.
"It is in record that before now, there were interventions to the State from World Bank, USAID, French Developmental Agencies and other development partners, in form of water, erosion control, rural developments, rural roads and many others, but there are no records on the good interventions to show their commensurate impact on the people".
"Therefore, there is the need for a bureau that will coordinate all interventions from Local and International Partners, be it World Bank, State Development Agency or Federal Government, to ensure the proper management and implementation of the policies and at the end of the day, ensure that the State gets value for her money".
Against this backdrop, the number one citizen of the State encouraged International organizations on their continued support and consistency.
BAD ROADS:
ORU WEST LAWMAKER RESORTS TO SELF HELP
Member representing Oru West State Constituency in IMHA, Hon. Barr. Dominic Ezerioha has moved towards providing an accessible and motorable roads for his LGA.
The lawmaker within the week was spotted along the College Road Mgbidi, in Oru West
monitoring the grading of some of the dilapidated roads that needed urgent attention.
It was gathered that Ezerioha, out of his passion and cries of the public embarked on massive rural roads grading and possible ashphalting.
Meanwhile, aside being the House Committee Chairman on Information, he is not lagging on effective representation and lawmaking.
Information gathered from feelers had it that Ezerioha is getting it right, hence a confidence vote on him.
It was also gathered that the 'Okwuruoha' Mgbidi as fondly called on many occasions had promised of giving in his best in ensuring that his Constituents feels his impact as a lawmaker.
Recall that while the ninth House marked its one year in office, Hon. Ezerioha recorded many motions standing in his name, and bills on notice of presentation.
PHOTO SHOOT WITH GOVERNOR EXCITES IWUANYANWU
It was a momentous but attracting sight to behold in the Imo State Government House, Owerri, on Tuesday, when the Deputy Speaker of IMHA stole a show with the Governor, Senator Hope Uzodinma.
The Deputy Speaker, Rt. Hon. Amara Chyna Iwuanyanwu, representing Nwangele LGA had a delight in posing for a photograph with the Governor.
Apart from the usual group pictures by the members of the House with the Governor, it was sort of a 'solo' picture session for the Nwangele young D. S.
It would be recalled that last week edition of Trumpeta Assembly Vibes had reported on the obvious distance of the Deputy Speaker from executing certain duties.
Although the Speaker, Rt. Hon. Chiji was present, the atmosphere and body language of Iwuanyanwu may likely read a change in terrain and enabling ground for key functionaries of the House.
26 PUPILS BENEFIT FROM OBIEFULE'S FSLC SUPPORT PACKAGE
No fewer than twenty-six Pupils from Isu Local Government Area, Imo State, warming up for their First School Leaving Certificate, FSLC, have benefitted from the support package of the member representing the Constituency in the IMHA, Hon. Mrs. Ngozi Obiefule.
Luck smiled on them yesterday, when the female lawmaker paid the exam fee for the 26 Pupils at Town school Isuokporo.
Hon. Obiefule made the payment in preparation for the upcoming External Examination.
"Chimbute uzo" as fondly called while addressing her Constituents said as a Foundation laying, FSLC is paramount to every child, hence the gesture.
As if that was not enough, she further promised to pay for all the Pupils in Isu whose parents are unable to foot the bill.
PGs DISSOLUTION:
OGUTA BOILS, AS LAWMAKER BATTLES IMC CHAIRMAN, WARNS AGAINST UNDEMOCRATIC ACTIONS
Palpable fear has enveloped the entire Oguta Local Government Area, Imo State, over a purported dissolution and appointment of new Presidents General, PGs, by the LGA Chairman, Emma Mazi.
Even as some LGAs seem to be doing a similar thing, that of Oguta is not going down well as member representing the Constituency in Imo State House of Assembly, Hon. Barr. Frank Ugboma has vehemently opposed the move.
In a public announcement signed by Hon. Frank Ugboma, he said,
"My attention has been drawn to a radio announcement purportedly made by Emma Mazi, IMC Co-ordinator Oguta LGA of Imo State wherein he purports to have dissolved and appointed President-Generals of various Autonomous Communities in Oguta LGA albeit, without due consultations with any of the affected Communities".
"As the Honourable member representing Oguta State Constituency with oversight function on the Local Government, the only elected political office holder of the LGA and by extension the highest elective office holder in Oguta LGA currently, it is my position that such sensitive issue must be done within the confines of law and with due regards to the rights of the Communities to elect, nominate and/or decide who represents them and not on the whims and caprices of one political appointee acting in obvious self delusion".
"It is pursuant to this inalienable rights of the Communities and my total commitment to effectively represent the good people of Oguta State Constituency that I hereby condemn such rascality and vagary as demonstrated by the purveyor of such affront on the peace loving people of Oguta LGA".
He further said, "The Imo State Traditional Rulers, Autonomous Communities and Allied Matters Law, 2016, as amended does not empower the Local Government Chairman to appoint or select executives of the Town Unions of Autonomous Communities. Executives of the Autonomous Communities are elected in line with the Constitutions of their Autonomous Communities and not even by an elected Local Government Chairman, therefore the actions of Emma Mazi is ultra vires, unlawful, illegal, null and void".
"Finally, may I by this announcement urge the good people of Oguta to ignore, disregard and discountenance Emma Mazi's announcement since he has chosen not to imbibe measures of democratic tenets in his headship of the IMC of Oguta LGA".
He therefore urged Oguta people to disregard the said announcement by Emma Mazi, as it lacked due process and authority to do so.