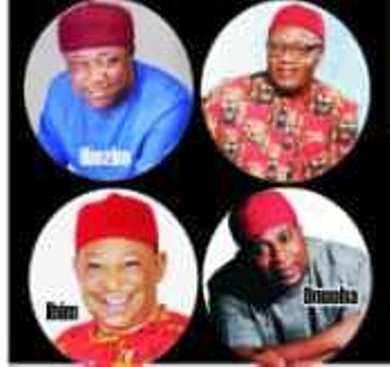 By Okey Alozie
The troubles afflicting Imo State chapter of the All Progressive Congress, APC is unending with internal schism rocking the party.
According to what Trumpeta learnt, another major crisis has erupted with those who agreed to step down under concensus arrangement for the Okigwe zone primary elections disappointed by the eventual winner.
In the build up to the primaries, not less than six aspirants purchased forms to take part in the exercise. The party leadership under Chief Marcon Nlemigbo opted for a concensus arrangement where some of the aspirants like Chief Chikwem Onuoha,  Rt Hon Acho Ihim,  Hon Mark Uchendu and Hon Bright Nwachukwu allegedly stepped down to support the eventual winner, Frank Ibezim under an arrangement that will see them get accommodated in the scheme of things.
But latest reports reaching Trumpeta from Abuja is that the agreement for the concensus may have collapsed as those who bought into it have been disappointed.
It was learnt that there is failure on the part of Ibezim and backers to fulfil their own side of the bargain.
It was further gathered that instead of handing them a reasonable sum of money to cover up as agreed, a peanut was handed to them in Abuja to enable them return Owerri.
According to reliable sources, one of the aspirants led others to reject the meager offer. The scene in Abuja attracted a top notch political office holder from the State who took the aggrieved aspirants to a lunch. His presence could not save the day despite appeals he rendered.
There are strong indications that the aspirants who stepped down for Ibezim may have reneged and backed out from the concensus deal because of poor treatment meted to them.