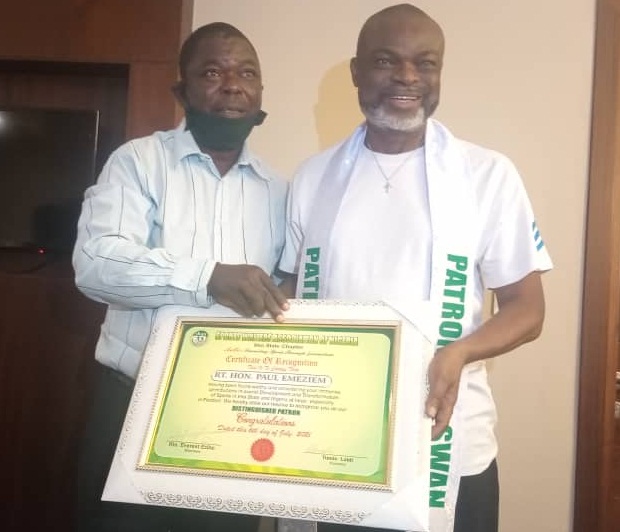 The much celebrated Imerienwe Unity Football Competition in Ngor Okpala LGA will resumes this December 2021 the donor, Chief (Dr) TOE Ekechi has assured.
Dr Ekechi who made this assurance yesterday during a parley with members of the Sports Writers Association of Nigeria SWAN, Imo state chapter at Protia Hotel, Owerri said the Covid -19 pandemic disease out break halted the competition which has horned out talents who are currently playing in the nations elite league and abroad.
The media guru cum politician however regretted the beaurocratic bottle neck in government that has slowed/halted the upgrading plan he has for the host arena stating that lack of basic facilities in our society hampers grassroots development.
The former Commissioner for Information in the state and APC Chieftain in the state said he also has plans to accommodate the female version in the competition in the near future expressing delight at the impact of Imo female footballers and the at the national female basketball team currently representing the nation at the Tokyo 2020 Olympics.
Meanwhile, the Sports Writers Association of Nigeria SWAN, Imo Chapter has inducted Chief Dr TOE Ekechi as one of their Patrons.
Decorating the Imerienwe in Ngor Okpala born politician,  the state SWAN Chairman, Rtn Everest Ezihe described Dr Ekechi as an astute football grassroots promoter who have over the years thrown his personal fund to develop sports in his area.
"We resolved to make you our patron a away to appreciate your relentless effort in sports development and to work with you in our vision and mission to reposition sports in Imo state.
He urged him not to relent in supporting the development of the youths adding that his contribution to sports development is well documented as he was also presented with a SWAN certificate of honour for his outstanding efforts to develop sports.
Dr Ekechi who expressed gratitude to the Imo SWAN for honouring him as a Patron also said the action further buttresses  that the accolades he has received from Lagos and Abuja Chapters as well as the National body was merited.
While thanking the sports writers for their gesture he enumerated some of the recognition bestowed on him including the one by Federal Ministry of Health.