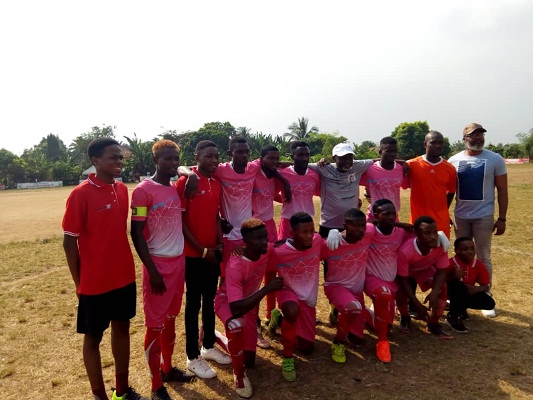 The sixth edition of the Okenze Tobias Ekechi Imerienwe/Upe Unity Football Competition (2021 Renewal edition) recorded another high when Raiders FC of Umunakaram last Friday broke their 7 years jinx of not winning the tournament.
The "Brazilians" of Umunakaram as they were formerly known in the early 80's got the better of 2 time champions of the TOE Ekechi Imerienwe Cup, Umuoye 3-1 on penalties after the regulations time ended 1-1 during the final which was held at the Umuoye community Primary School field, Imerienwe.
The carnival like grand finale which was also attended by top dignitaries such as Eze Augusine Ekechi "Ijenwe II of Imerienwe", Prof Umezuruike Opara, "Enyioha Isipamba", Prof Sam Amadi, Rev Fr Chika Opara, Hon Hector Oparaji, Engr Morgan, Sir Young Tobi Ekechi, Ho Goddy Opara among many others also saw the tournament's youngest player, Uchechukwu Eke (17yrs) bag a scholarship award to study in the Higher Institution after he sold his phone to enable him buy a pair of boot an eventually won the trophy for the first time with the champions, Umunakaram.
In his address to the mammoth crowd, the donor, Dr TOE Ekechi noted that the 2021 tournament is the 'renewal edition' after the impact of the COVID -19 Pandemic disease outbreak which hindered the 2020 edition.
He thanked all the supporters of the tournament including Bold drinks and sponsors of the individual award and lauded the all the Villages that make up Imerienwe Community for their comportment through out the duration of the tournament every season which has made the tournament an envy to others and promised to always better the next edition.
The Local Organizing Committee Chairman LOC, Hon Nevile Okere in reaction to Trumpeta thanked all for their contributions towards making this years edition a success as he congratulated Umunakaram for emerging champions haven not been able to win the cup since its inception 7 years ago.
He noted that Umunakaram used to be a force to reckon with in the 80's.
Some of the individual award winners include, Umuoye (Fair play award), KK from Umunakaram (Best Keeper), Chibueze Anyanwu of Umunam (Best Defender), Chimuanya of Umuoye (Top scorer with 3 goals) and Vincent Okere of Umuoye (Best player of the tournament).
The individual award winners got N100, 000 each aside from the best player who got N150,000.
The 3rd placed team, Amafor got N150,000, 2nd placed team, Umuoye got N300,000 while the champions, Umunakaram got N600,000 and a giant trophy.
Umunam who lost to Umuoye in the semi final was the defending champions.