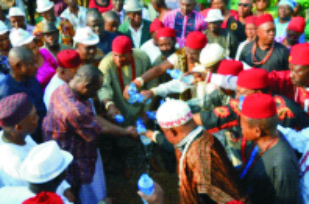 By Onyinyechi Amakaulo
Culture indeed is significant in the life of every people or race here on earth and that's exactly what played out at Umueziogwu -Uzoagba in Ikeduru Local Government Area when" Ebubemba Ikeduru", Clan Chief (Prof) Chimezie Anosike Kingsley held his 2nd Ofala Festival on Thursday December 30th, 2021.
Declaring the ceremony open, Ebubemba Ikeduru and his wife Odi Ukonamba, revealed that Ofala means (Ofo Ala).
According Business captain, it's is a time of counting blessings and a time of giving back to the society. He further informed that he inherited the 'Ofala festival' from his in-laws in Anambra state.
He blessed the 4 market days of Eke, Nkwo, Afo and Orie of 2022 asking God to bless the days for his people.
Speaking further, Prof Kingsley noted that the 'Ofala festival' will be an annual event that will be hosting all kinds of traditional activities in his Community, Uzoagba.
In her contribution, his lovely wife, "Odi Ukonamba", Chief Lady Maureen Nneka Kingsley thanked God for the honor to be alive to celebrate yet another season of their 'Ofala' in good health and sound mind.
She noted that Ofala Festival is an Anambra state culture that has tested test of time adding that it's a good culture of giving back to the society, and that that's why she decided to allow his husband to bring it to his people in Uzoagba, Ikeduru and Imo generally.
"Ofoala festival is a unique culture that has blessed and touched lives, that's why we're bringing it down to Imo state in other to use the opportunity to thank God and bless indigent ones".
Earlier in his opening remark, the chairman of the occasion, High Chief George Whyte Iwuamadi "Osimiri Ikeduru", thanked God for giving him and all who graced the occasion the opportunity to witness the 2nd "Ofala Festival" adding that it is a time to give God the glory and to touch lives with the little God has blessed Ikeduru with.
"We're thankful to God alone because it is not easy to be alive to celebrate".
He used the opportunity to call on the people of Ikeduru and Imo state to accept the ofala festival as a good culture that will enhance the potentials of the state.
Also speaking, the national president of Uzoagba Stars Club, Chief Tony Ifeanyi "Udu Omekagu 1 of Abazu" said he is going to do everything within his reach to make sure that the culture is sustained as he encouraged Ebubemba Ikeduru to always fly the good flag of Ikeduru.
Highpoint of the occasion was the display of very rich cultural attire by "Ebubemba Ikeduru" and his wife "Odi Ukonamba".
Personalities who witnessed the cultural event include; Ndi Eze na Ozo, Clan Chiefs, "Anyi Don Nwa Mbano", "Nfenfe Pericomo", among many others.