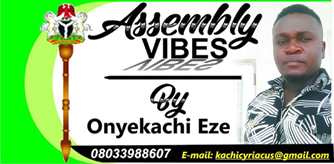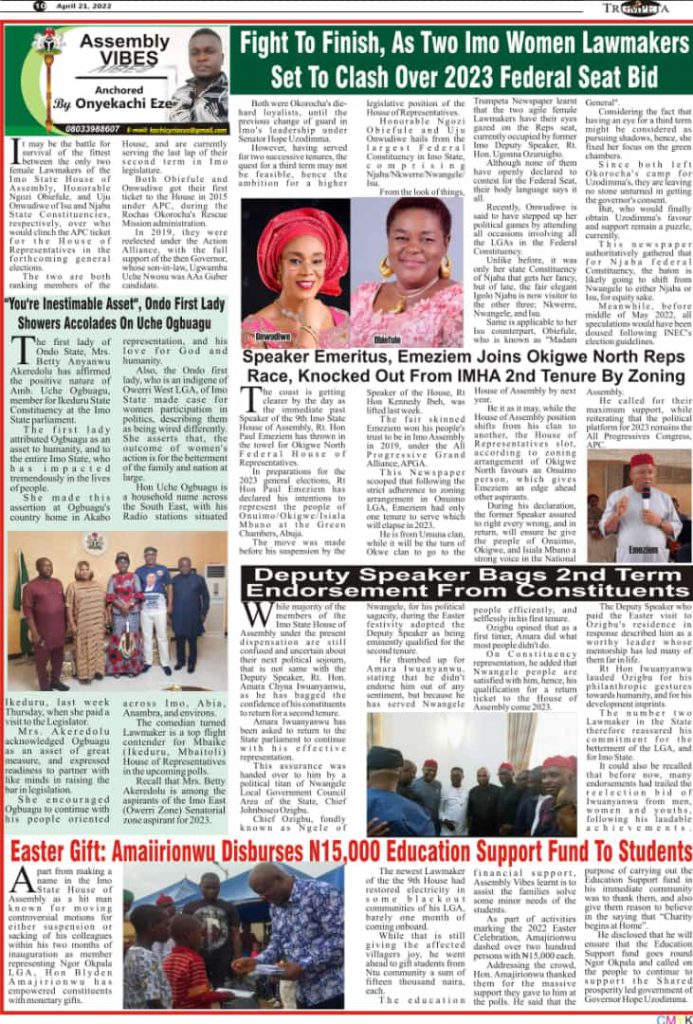 TWO IMO FEMALE LAWMAKERS GO TO BATTLE OVER 2023 HOUSE OF REPS SEAT
It may be the battle for survival of the fittest between the only two female Lawmakers of the Imo State House of Assembly, Honorable Ngozi Obiefule, and Uju Onwudiwe of Isu and Njaba State Constituencies, respectively, over who would clinch the APC ticket for the House of Representatives in the forthcoming general elections.
The two are both ranking members of the House, and are currently serving the last lap of their second term in Imo legislature.
Both Obiefule and Onwudiwe got their first ticket to the House in 2015 under APC, during the Rochas Okorocha's Rescue Mission administration.
In 2019, they were reelected under the Action Alliance, with the full support of the then Governor, whose son-in-law, Ugwumba Uche Nwosu was AAs Guber candidate.
Both were Okorocha's die-hard loyalists, until the previous change of guard in Imo's leadership under Senator Hope Uzodimma.
However, having served for two successive tenures, the quest for a third term may not be feasible, hence the ambition for a higher legislative position of the House of Representatives.
Honorable Ngozi Obiefule and Uju Onwudiwe hails from the largest Federal Constituency in Imo State, comprising Njaba/Nkwerre/Nwangele/Isu.
From the look of things, Trumpeta Newspaper learnt that the two agile female Lawmakers have their eyes gazed on the Reps seat, currently occupied by former Imo Deputy Speaker, Rt. Hon. Ugonna Ozuruigbo.
Although none of them have openly declared to contest for the Federal Seat, their body language says it all.
Recently, Onwudiwe is said to have stepped up her political games by attending all occasions involving all the LGAs in the Federal Constituency.
Unlike before, it was only her state Constituency of Njaba that gets her fancy, but of late, the fair elegant Igolo Njaba is now visitor to the other three; Nkwerre, Nwangele, and Isu.
Same is applicable to her Isu counterpart, Obiefule, who is known as "Madam General".
Considering the fact that having an eye for a third term might be considered as pursuing shadows, hence, she fixed her focus on the green chambers.
Since both left Okorocha's camp for Uzodimma's, they are leaving no stone unturned in getting the governor's consent.
But, who would finally obtain Uzodimma's favour and support remain a puzzle, currently.
This newspaper authoritatively gathered that for Njaba federal Constituency, the baton is likely going to shift from Nwangele to either Njaba or Isu, for equity sake.
Meanwhile, before middle of May 2022, all speculations would have been doused following INEC's election guidelines.
SPEAKER EMERITUS, EMEZIEM JOINS OKIGWE NORTH REPS RACE, KNOCKED OUT FROM IMHA 2ND TENURE BY ZONING
The coast is getting clearer by the day as the immediate past Speaker of the 9th Imo State House of Assembly, Rt. Hon Paul Emeziem has thrown in the towel for Okigwe North Federal House of Representatives.
In preparations for the 2023 general elections, Rt Hon Paul Emeziem has declared his intentions to represent the people of Onuimo/Okigwe/Isiala Mbano at the Green Chambers, Abuja.
The move was made before his suspension by the Speaker of the House, Rt Hon Kennedy Ibeh, was lifted last week.
The fair skinned Emeziem won his people's trust to be in Imo Assembly in 2019, under the All Progressive Grand Alliance, APGA.
This Newspaper scooped that following the strict adherence to zoning arrangement in Onuimo LGA, Emeziem had only one tenure to serve which will elapse in 2023.
He is from Umuna clan, while it will be the turn of Okwe clan to go to the House of Assembly by next year.
Be it as it may, while the House of Assembly position shifts from his clan to another, the House of Representatives slot, according to zoning arrangement of Okigwe North favours an Onuimo person, which gives Emeziem an edge ahead other aspirants.
During his declaration, the former Speaker assured to right every wrong, and in return, will ensure he give the people of Onuimo, Okigwe, and Isiala Mbano a strong voice in the National Assembly.
He called for their maximum support, while reiterating that the political platform for 2023 remains the All Progressives Congress, APC.
DEPUTY SPEAKER BAGS 2ND TERM ENDORSEMENT FROM CONSTITUENTS
While majority of the members of the Imo State House of Assembly under the present dispensation are still confused and uncertain about their next political sojourn, that is not same with the Deputy Speaker, Rt. Hon. Amara Chyna Iwuanyanwu, as he has bagged the confidence of his constituents to return for a second tenure.
Amara Iwuanyanwu has been asked to return to the State parliament to continue with his effective representation.
This assurance was handed over to him by a political titan of Nwangele Local Government Council Area of the State, Chief Johnbosco Ozigbu.
Chief Ozigbu, fondly known as Ngele of Nwangele, for his political sagacity, during the Easter festivity adopted the Deputy Speaker as being eminently qualified for the second tenure.
He thumbed up for Amara Iwuanyanwu, stating that he didn't endorse him out of any sentiment, but because he has served Nwangele people efficiently, and selflessly in his first tenure.
Ozigbu opined that as a first timer, Amara did what most people didn't do.
On Constituency representation, he added that Nwangele people are satisfied with him, hence, his qualification for a return ticket to the House of Assembly come 2023.
The Deputy Speaker who paid the Easter visit to Ozigbu's residence in response described him as a worthy leader whose mentorship has led many of them far in life.
Rt Hon Iwuanyanwu lauded Ozigbu for his philanthropic gestures towards humanity, and for his development imprints.
The number two Lawmaker in the State therefore reassured his commitment for the betterment of the LGA, and for Imo State.
It could also be recalled that before now, many endorsements had trailed the reelection bid of Iwuanyanwu from men, women and youths, following his laudable achievements.
"YOU'RE INESTIMABLE ASSET", ONDO FIRST LADY SHOWERS ACCOLADES ON UCHE OGBUAGU
The first lady of Ondo State, Mrs. Betty Anyanwu Akeredolu has affirmed the positive nature of Amb. Uche Ogbuagu, member for Ikeduru State Constituency at the Imo State parliament.
The first lady attributed Ogbuagu as an asset to humanity, and to the entire Imo State, who has impacted tremendously in the lives of people.
She made this assertion at Ogbuagu's country home in Akabo Ikeduru, last week Thursday, when she paid a visit to the Legislator.
Mrs. Akeredolu acknowledged Ogbuagu as an asset of great measure, and expressed readiness to partner with like minds in raising the bar in legislation.
She encouraged Ogbuagu to continue with his people oriented representation, and his love for God and humanity.
Also, the Ondo first lady, who is an indigene of Owerri West LGA, of Imo State made case for women participation in politics, describing them as being wired differently. She asserts that, the outcome of women's action is for the betterment of the family and nation at large.
Hon Uche Ogbuagu is a household name across the South East, with his Radio stations situated across Imo, Abia, Anambra, and environs.
The comedian turned Lawmaker is a top flight contender for Mbaike (Ikeduru, Mbaitoli) House of Representatives in the upcoming polls.
Recall that Mrs. Betty Akeredolu is among the aspirants of the Imo East (Owerri Zone) Senatorial zone aspirant for 2023.
EASTER GIFT: AMAJIRIONWU DISBURSES ₦15,000 EDUCATION SUPPORT FUND TO STUDENTS
Apart from making a name in the Imo State House of Assembly as a hit man known for moving controversial motions for either suspension or sacking of his colleagues within his two months of inauguration as member representing Ngor Okpala LGA, Hon Blyden Amajirionwu has empowered constituents with monetary gifts.
The newest Lawmaker of the the 9th House had restored electricity in some blackout communities of his LGA, barely one month of coming onboard.
While that is still giving the affected villagers joy, he went ahead to gift students from Ntu community a sum of fifteen thousand naira, each.
The education financial support, Assembly Vibes learnt is to assist the families solve some minor needs of the students.
As part of activities marking the 2022 Easter Celebration, Amajirionwu dashed over two hundred persons with ₦15,000 each.
Addressing the crowd, Hon. Amajirionwu thanked them for the massive support they gave to him at the polls. He said that the purpose of carrying out the Education Support fund in his immediate community was to thank them, and also give them reason to believe in the saying that "Charity begins at Home".
He disclosed that he will ensure that the Education Support fund goes round Ngor Okpala and called on the people to continue to support the Shared prosperity led government of Governor Hope Uzodimma.