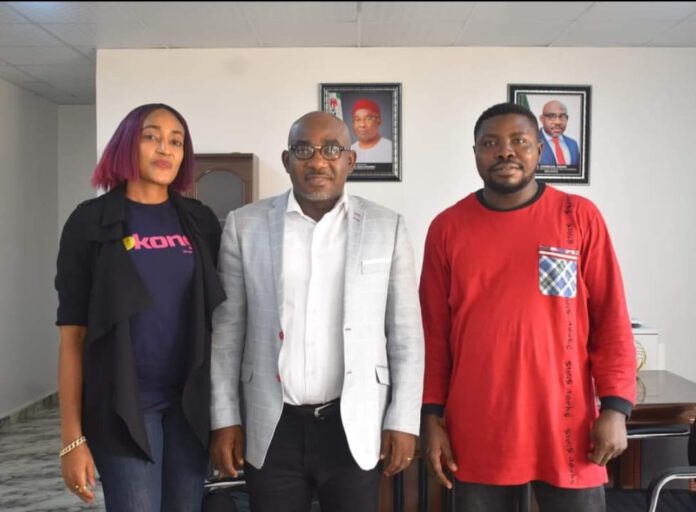 When the Imo State Government under the leadership of Distinguished Senator Hope Uzodinma established the SkillUpImo Project; rooted in the First Pillar of the IMO DIGITAL ECONOMY AGENDA ( I.D.E.A) 2022-2026, ; a humanitarian training and empowerment  program aimed at  training three hundred thousand Imo youths and equipping them with fourth industrial revolution skill  set within the next three years,  little did it know that its robust goal of connecting 60 percent of the graduands to job opportunities would begin yielding fruits almost spontaneously.
This auspicious opportunity came calling as the Group Head marketing and Communications, Konga and Zinox Group, Gideon Ayogu and Judith Ugwu, Head, People engagement and Administration, came to the Ministry of Digital Economy and E-Government at No 28 Egbu Road, Owerri to conduct interviews and employ graduands of the first cohort of the SkillupImo project.
Zinox Technologies and Konga Group owned by one of Imo's Illustrious Sons, Leo Stan Ekeh has from inception supported the Imo digital initiative and has again made good his promise by granting employment opportunities to Imolites under the SkillupImo Project .
Speaking, after the interview session for the trainees, the Honourable Commissioner for Digital Economy and E-Government, Dr Chimezie Amadi expressed his heartfelt appreciation to the Zinox Technologies and Konga Group for their collaboration in seeing to it that the over 56 percent unemployment rate in the state is brought to the barest minimum and at the same time addressing issues of insecurity.
In view of the truth that Imolites are  gaining market traction and being equipped with 4.0 industry revolution skill set, Dr. Amadi called for feedback and  continued private sector partnerships in order to adequately groom industry ready skill set to offer value upon employment .
Earlier in his Speech, Mr.Gideon Ayogu, expressed delight at the crop of Digital savvy  graduands the SkillUpImo Project had been able to churn out within a few weeks.
Lending Voice, Mrs, Juliet Ugwu, also visibly impressed by the products of the SkillUpImo project commended the Digital Governor of Nigeria in his efforts at transforming the digital economy of the State and appreciated the Hon. Commissioner for his unalloyed hospitality.
A total of 164 trainees were interviewed for vacancy positions in  Digital Marketing, Sales, Phone repairs, Sales, Customer service and programming.